Bears coach Marc Trestman was happy to have Martellus Bennett back at practice Sunday.
The veteran tight end participated in his first workout since being suspended by the team last Tuesday following an altercation in practice the day before with rookie Kyle Fuller.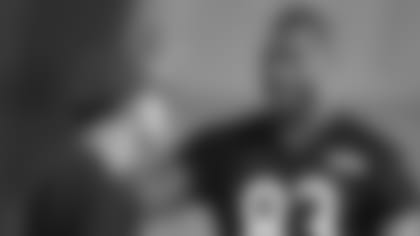 Bears coach Marc Trestman chats with tight end Martellus Bennett during minicamp in June.
"Going into it we had a process, a protocol of what we wanted to do and he did it," Trestman said. "He did everything we wanted him to do in a very positive and professional manner and that's why he's back. He deserves to be back."
Trestman declined to divulge details of what the Bears required Bennett to do, but the coach did reveal that he was never concerned about the incident adversely affecting team chemistry.
"I never thought about any of that," Trestman said. "We had a situation. We took that situation as a separate entity. I think we handled it right. I was very impressed with the way our entire team has handled it throughout the course of the last 72 hours-plus.
"We had a job to do and we went out and did it. And I was really happy with the way the team welcomed him back. It was a very authentic welcome back for him today by our team and you saw we practiced today and it was a good, clean practice."
Familiar faces: Bennett wasn't the only Bears player who returned to the field Sunday. Safeties Chris Conte and Craig Steltz practiced for the first time this year after recovering from offseason surgeries, while cornerback Tim Jennings, defensive end Jared Allen and guard Kyle Long were back in action after sitting out Friday night's preseason opener against the Eagles.
Jennings, a two-time Pro Bowler who had been sidelined with a sore quad, said that he needs to work on his conditioning to get back up to speed.
"That's what camp's about," he said. "Execute, even when you're tired. It was a good start. I know I've got to ease my way back in there. I got a couple of sprints in afterwards. I'm just trying to get that conditioning back."
Jennings has been moving from cornerback to nickel back in passing situations, allowing the Bears to put first-round pick Kyle Fuller on the field opposite Kyle Fuller at cornerback.
"It's new to me," Jennings said. "It's new terminology, new keys. You've got to do a lot more with your eyes. It's all about a 'feel' game. So once you get comfortable, get a feel for certain routes and where everybody is going to be, I can be in the right spot."
No worries: While Long returned, right tackle Jordan Mills (foot) and reserve offensive lineman Brian de la Puente (knee) did not practice Sunday. Mills was replaced by Michael Ola.
Despite being down two linemen, Trestman isn't worried.
"I don't have any concern," he said. "It's part of football. Kyle is back today. We expect Jordan to be back soon. We're keeping our fingers crossed with Brian. It's giving other guys an opportunity to get a lot of work done. It's football. These things happen. But I don't think concern is one of them. I'm excited for the guys who have an opportunity and I'm hopeful that we'll get the guys back as soon as we can."
Roster move: The Bears on Sunday signed offensive lineman Rob Turner to a one-year contract and waived offensive lineman Graham Pocic.
Turner has started 24 of 63 games played over seven seasons with the Jets (2007-11), Rams (2012) and Titans (2013) after entering the NFL as an undrafted free agent from New Mexico. The 6-4, 308-pounder has made 22 of his career starts over the past two seasons.