BOURBONNAIS, Ill. — As he begins his first season as Bears head coach, Marc Trestman isn't interested in lowering expectations or making excuses.
Trestman instead is focused on preparing his team for its Sept. 8 season opener against the Bengals, and he's confident that the Bears won't take a step back in 2013 due to the regime change.
"We've got to go out and we've got to be ready on Sept. 8 with our players feeling like we can go out and beat anybody with expectations that we can, and I believe we will," Trestman told reporters Wednesday as the Bears opened training camp at Olivet Nazarene University.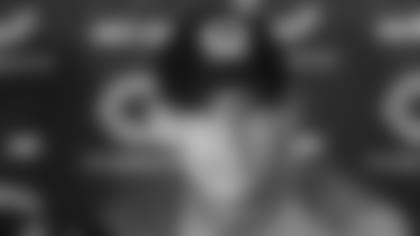 Bears coach Marc Trestman speaks to the media Wednesday at training camp.
"As coaches, we've got to put our guys in a position to succeed starting on Sept. 8, and we're going to work every day to make sure we get that done."
Taking over a Bears team that went 10-6 but failed to make the playoffs for the fifth time in six years, Trestman will attempt to end a negative trend: Since the legendary George Halas retired in 1967, no Bears coach has compiled a winning record in his first season.
After Jim Dooley went a respectable 7-7 in 1968, the next seven coaches all had losing marks in their first years on the job: Abe Gibron (4-9-1 in 1972), Jack Pardee (4-10 in 1975), Neill Armstrong (7-9 in 1978), Mike Ditka (3-6 in 1982), Dave Wannstedt (7-9 in 1993), Dick Jauron (6-10 in 1999) and Lovie Smith (5-11 in 2004).
The good news is that unlike most of his predecessors—Armstrong was the only coach since Halas to take over a winning team—Trestman inherits a roster that features difference-makers on both sides of the ball. Pro Bowlers include receiver Brandon Marshall, running back Matt Forte, defensive end Julius Peppers, linebacker Lance Briggs, defensive tackle Henry Melton, and cornerbacks Charles Tillman and Tim Jennings.
"When our coaches walk through the locker room, we say: 'Why can't we? Is there any reason why we can't compete for championships based on what we see in this locker room and on the field?'" Trestman said. "And the answer is we certainly can. There's no reason why we can't compete."
Trestman feels that way in part due to how well quarterback Jay Cutler and his teammates digested the new offense that was installed during the offseason program.
"We've got a very smart football team," Trestman said. "We've got an offensive group that has really assimilated this football and this verbiage very, very quickly. We threw a lot of volume at them. We're excited as a staff because our players appear to get stimulated by the volume of plays that we have given them. They like the football. They like the formations.
"They're enjoying the process. It's starting to make sense to them. Jay gives us a clear indication of that in each and every meeting because we kind of follow his lead in terms of volume that we can put in, and they're begging for it. They're not asking for less. They like the different things that we're giving them."
It appears that Cutler will have more flexibility to change plays at the line of scrimmage this season than he had under previous Bears offensive coordinators Ron Turner, Mike Martz and Mike Tice.
"We will give him two plays with a third answer," Trestman said. "We've done all of this already. What we're trying to do is throw as much at Jay and the offense as we can, see what we can do, and then make mindful decisions on exactly what we can do coming out of the gate."
Trestman has had success working with Hall of Famers such as Steve Young and Jerry Rice during his career. But the Bears coach knows the importance of motivating each individual player.
"What we're trying to do is create an environment in which every player can be the best football player they can be every day," he said. "The only way to do that is for the guy next to him to try to do the same. Because of the interconnectivity of this game, you can't be the best you can be unless the guys around you are working at it.
"That's the sell: We can't be good unless you're good. That's where you create the edge every day, the sense of urgency. It's a message you send every day in different ways because not everybody hears that message the same way. That's the fun of being in front of 90 guys because everybody hears the message in different ways."