After leading the Bears to three straight victories to open the season, quarterback Jay Cutler made some costly mistakes in Sunday's 40-32 loss to the Lions in Detroit.
But one day after Cutler threw three interceptions and lost a fumble that was returned for a touchdown, Bears coach Marc Trestman expressed confidence that the quarterback will rebound.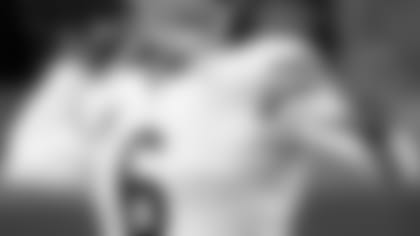 Jay Cutler passed for 317 yards and two touchdowns but accounted for all four Bears turnovers in Sunday's loss to the Lions.
"Obviously you don't want to make [mistakes]," Trestman said. "Those are key moments. There are plays just like that we've seen him make the last three weeks and they just didn't happen [Sunday]. I'm hopeful that we'll make the corrections and move forward, and I believe we will.
"It's Game 4. I looked around the league yesterday and a lot of quarterbacks made a lot of mistakes. It was one of those days. We don't want to make them. That doesn't put us in a position where we feel we can make them. That's not the case. But I'm encouraged. I see him do so many things in practice, moving his feet and doing the right things."
Cutler has a history of bouncing back from poor outings. Sunday marked the seventh time he has thrown three or more interceptions in a game with the Bears. On the previous six occasions, he has compiled a 5-1 record in his next game, throwing for nine TDs and four interceptions.
Trestman reiterated Monday that Cutler's turnovers against the Lions resulted more from fundamental breakdowns than poor decision-making. The quarterback didn't set his feet on two interceptions, underthrowing Brandon Marshall and overthrowing Alshon Jeffery.
"You have those days where it just didn't happen for him, where the plays were there or he was able to scramble and make some plays, and it just didn't happen," Trestman said.
"We sat in the meeting [Monday] and Jay expressed his sense of accountability. It all starts with me. I said there are some calls I'd like to have back and I want to take responsibility for that and as I did with the team. We're just going to work together. We've got to get back and work on fundamentals and techniques, not only at the quarterback position but throughout our team."
In the first three games of the season, Cutler completed 67.3 percent of his passes for 693 yards with six touchdowns, two interceptions and a 94.2 passer rating. On Sunday, he connected on 27 of 47 passes for 317 yards with two TDs, three interceptions and a 65.6 rating.
With the Bears trailing 40-16 late in the game, Cutler threw for touchdowns and two-point conversions on back-to-back possessions to close the gap to 40-32 before the Lions recovered Robbie Gould's onside kick with :42 remaining to seal the win.
"Jay didn't play the way he's capable of playing and he readily admits it," Trestman said. "But I thought he played tough and courageous and he played to the end and he made some tremendous throws that are going to get lost in all this because of the turnovers."