New Bears coach Marc Trestman has yet to divulge exactly what type of offense he intends to run in Chicago, but one certainty is that he'll place a premium on pass protection.
"On the offensive side it starts and ends with the quarterback," Trestman said a week ago during his introductory press conference. "We've got to protect our quarterback and keep him safe."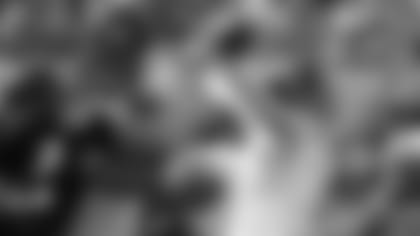 Gabe Carimi protects Jay Cutler during the Bears' Week 5 win over the Jacksonville Jaguars.
In Trestman's first year as head coach of the CFL's Montreal Alouettes in 2008, the team allowed only 22 sacks after yielding 68 the previous season-with the same five offensive linemen.

Since acquiring Jay Cutler in a 2009 trade, the Bears have permitted 184 sacks, the second most in the NFL behind only the Arizona Cardinals (188).

Trestman will also place a major emphasis on protecting the ball. All eight NFL teams that committed 18 or fewer turnovers in 2012 made the playoffs, including Super Bowl participants San Francisco and Baltimore, who tied for second fewest with 16 apiece.

"We've got to take care of that precious football with each and every man that has the opportunity to touch it," Trestman said. "We've got to play smart, multi-dimensional football that's going to attack the field like all the best teams in this league, and we've got to be tough and physical with our mindset whether it's run or pass."

Trestman doesn't care whether the Bears are known as a running or passing offense; he expects them to be able to do both while putting points on the board. In 2012, the Bears offense scored 32 touchdowns in 16 games, an average of exactly two per contest.

"The only object of the offense at the end of the day is to score touchdowns," Trestman said. "If we do it with 12 runs in a row or 12 passes in a row, nobody is going to care.

"We're going to get the ball in the end zone and try to defeat the team that we're playing on a play-by-play basis. And I'm not speaking for myself; I would be speaking for any coach in our league. That is what we try to do. We're not going to label ourselves.

"We want to be capable of being a very good running football team and a very good passing team so we have those tools on a play-by-play basis to do one or the other and have success."

Known for his ability to develop quarterbacks, Trestman is eager to begin working with Cutler. During 17 seasons as an NFL offensive coordinator and position coach, Trestman got the best out of the 49ers' Steve Young, the Raiders' Rich Gannon and the Cardinals' Jake Plummer.

The new Bears coach will focus on fundamentals from Day 1. Trestman is vowing to work closely with Cutler to evaluate his performance on a macro level-the big things that need to be improved-and a micro level, from taking a snap to dropping back and throwing the ball.

"It's a meticulous process," Trestman said. "The fundamentals and techniques are the most important thing to help our team win. The quarterback has a big job. He has to protect the ball. He has to live for the next play. He does it a number of different ways; at the snap, in the running game, in the confines of the pocket, locating the ball and outside the pocket.

"There are fundamentals and skill and techniques you have to have to do that. We're going to start from Day 1 trying to get that done."

It seems likely that the Bears will try to spread the ball around in the passing game more than they did in 2012 when Brandon Marshall was the only consistent threat. While Marshall was voted All-Pro after setting team records with 118 receptions and 1,508 yards, no other Bears receiver caught more than 44 passes or compiled more than 375 yards.

Last season with the Alouettes Trestman's top two receivers, Jamel Richardson and S.J. Green, had 62 receptions for 1,011 yards and 61 catches for 1,111 yards, respectively.

"You want to make sure a defense [has to] defend everybody because as soon as they focus on one, they've got the better hand," Trestman said. "We want to make sure we can attack the field sideline-to-sideline, and we'll try to do that with our offense to move the ball around."

New addition: Trestman has brought another one of his assistants from the Montreal Alouettes to the Bears, hiring Pat Meyer Thursday as assistant offensive line coach.

As Montreal's offensive coordinator/offensive line coach last season, Meyer helped the Alouettes finish third in the CFL in scoring (26.6 points per game), tied for first in touchdowns (51), second in passing (293.2) and tied for first in fewest sacks allowed (30).

Prior to his time in Montreal, Meyer spent four seasons at his alma mater, Colorado State (2008-11), where he worked first as offensive line coach before being named offensive coordinator in 2010.

Meyer is the third assistant from the Alouettes to be hired by the Bears, joining tight ends coach Andy Bischoff and assistant defensive line coach Michael Sinclair.