Locked in a battle with Jordan Palmer for the Bears' backup quarterback job, Jimmy Clausen will get his first chance to impress coaches in game action Friday night at Soldier Field.
"I'm excited to see him just like we all are," coach Marc Trestman said in advance of the preseason opener against the Eagles. "He's had a good camp. He's picked up the system very quickly. He's throwing the ball well overall.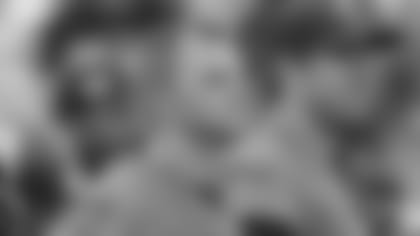 Jimmy Clausen (left) is competing with Jordan Palmer for the backup position behind starting quarterback Jay Cutler.
"He's been fairly consistent throughout practice knowing where to go with the football. It's not always perfect, but nobody is perfect in practice. He's in a serious competition with Jordan and we'll see what both of them can do Friday night under the lights."
Clausen signed with the Bears June 5 after spending his first four NFL seasons with the Panthers. The Notre Dame product has not appeared in a regular-season game since his rookie year in 2010 and missed all of the 2013 campaign with a shoulder injury that required surgery.
Clausen participated in the final two weeks of the Bears' offseason program, and has steadily improved in training camp as he becomes more familiar with the offense.
"I feel like I know the system," Clausen said, "not to where I want to know it a year down the road, but I feel confident executing what the coaches call."
Many NFL offenses utilize similar concepts, but digesting new terminology is like learning another language and, not surprisingly, the greatest challenge for Clausen.
"It's a hurdle that I'm still trying to get over," he said. "It's kind of breaking old habits, but you're not going to learn it overnight. It's a process. Each day out, each practice, each game out, it's going to get a little easier and feel a little more comfortable."
As he prepares for Friday night's preseason opener, Clausen's goals are simple.
"I'm just trying to go out there when my name's called, make plays, get the team in the right play for the situation, keep the chains moving and put points on the board," he said.
In a No. 2 quarterback, the Bears coaching staff is seeking a substitute who can step in and run the offense efficiently at a moment's notice.
"We're looking to see how he can run the offense," said offensive coordinator Aaron Kromer. "By no means are we looking for a superstar. We're looking for a guy that can read a coverage and throw it to the correct guy, or work with the unit and make him successful."
Bears starting quarterback Jay Cutler has been impressed with Clausen's attitude since the two starting working together one day after Clausen joined the team in June.
"He's a good guy," Cutler said. "You never really know anybody until you get to sit down and talk with them, and he was eager. He was very humble and just wanted to learn the offense and get a shot. I think he's progressed really well. As quickly as he's learned the offense, not only spitting it out but making the necessary changes and in the run game, he's done a really good job."
Clausen hopes to continue to progress and ultimately earn a roster spot with the Bears. If that doesn't happen, he's striving to catch the attention of another NFL club.
"Every day's a job interview whether it's on the practice field here for the Chicago Bears or going out in preseason games for 31 other teams," Clausen said. "It's a job interview each and every day, and that's how you have to approach it."