Media and fans alike are predicting big things this season for the Bears, due to their explosive offense and revamped defense. And that's just fine with coach Marc Trestman.
"We want the expectations," Trestman said. "We have high expectations. Our players have said it. Our players feel it. But at the end of the day they know they've got to go to work and get it done. It's not going to happen because we think it's going to happen. The work has got to take place.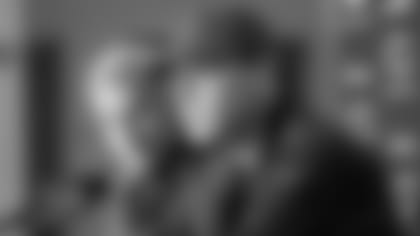 Marc Trestman and Phil Emery kicked off training camp by addressing the media Wednesday at Olivet Nazarene Unitversity.
"We recognize as a football team the excitement around our team, the community's excitement around our football team and what I [describe] as the noise that goes on around us. For us here in Bourbonnais, we've got to stay focused on the process. We've got to keep our feet on the ground."
The Bears' work begins in earnest Friday morning when they conduct their first training camp practice. Due in part to rules in the NFL's Collective Bargaining Agreement that was adopted in 2011, the Bears will have just 14 practices before breaking camp Aug. 13.
"In this day and age of the new training camps," Trestman said, "… it's a lot different than what it was, so we have to make the most of every single minute on the field with helping each player get better and master their craft, helping our units come together, and we have to make the most of every meeting time we can get because there's not a lot of time."
The Bears will add extra reps without increasing the length of practice by conducting drills at opposite ends of the field, something they did for the first time last month in minicamp.
"We're going to add some more of what we call 'two-spot practicing' where you'll see two practices actually going on at the same time," Trestman said. "That will provide more opportunity for coaching and more opportunity to develop our younger players.
"We've got to focus on getting our younger players as many reps as they can get and get them acclimated to the style of football that we play. We felt good about the way we did it [last year in camp], but we're going to try to capture more reps because of the short amount of time we have without debilitating our team in terms of losing their energy or wearing them down."
After excelling on offense but struggling on defense last season, the Bears bolstered the latter unit during the offseason. They focused on the line, signing free agent ends Jared Allen, Lamarr Houston and Willie Young and selecting tackles Ego Ferguson and Will Sutton in the draft.
While those additions obviously have improved the roster, Trestman knows that those moves alone don't assure the Bears of improving upon last season's 8-8 record.
"We see what we've got and the talent is better," Trestman said. "[But] we've got to turn paper into performance and excellence, and that's what we're going to be working at doing each and every day to try to do everything we can to get each and every player to do better."
Asked about his expectations this season, general manager Phil Emery said his objective hasn't changed since the day he was hired to replace Jerry Angelo in January 2012.
"Our goal as an organization is to win championships," Emery said. "We have fallen short since I've been here. That doesn't mean we're going to change our goal. That's what we're focused on. We're very aggressive toward attaining that goal. We're very accountable as an organization to make the necessary adjustments to stay on path toward our goal."