INDIANAPOLIS – Marc Trestman opened his press conference at the NFL Scouting Combine Thursday by telling reporters that he's "unbelievably excited about being the Chicago Bears head coach."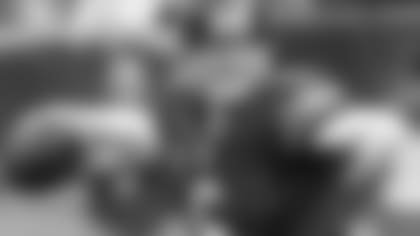 Quarterback Jay Cutler is set to enter his fifth season with the Bears.
Much of that enthusiasm clearly is fueled by the chance to work with Jay Cutler. Trestman boasts an impressive track record of developing quarterbacks during 17 seasons as an NFL offensive coordinator and position coach and five years as coach of the CFL's Montreal Alouettes.
Under Trestman's tutelage, Steve Young helped the 49ers top the NFL in scoring in 1995, Rich Gannon was named league MVP and led the Raiders to the Super Bowl in 2002, and the Alouettes' Anthony Calvillo won back-to-back CFL Most Outstanding Player awards in 2008-09.
"I am excited to coach Jay," Trestman said in Indianapolis. "I have had a couple of opportunities to talk with him on multiple levels and I'm excited to work with him in all facets of the game. I really am. He's an extremely bright guy. He loves football. He's got a great skill set.
"We've got to work hard to provide him the resources we can to maximize his ability, and that goes into everything we're doing in all three phases with our personnel department and coaching staff."
While general manager Phil Emery has described Cutler as a "franchise" quarterback and Trestman hasn't used the same term, Emery isn't worried about any difference of opinion.
"The No. 1 thing is that the team wins and that Jay improves and all of our players improve," Emery said. "I know this: Our coaches are excited to work with Jay. So whether it's a matter of semantics and I am calling somebody 'the franchise' and they haven't said that, I am OK with that. I know that in their heart we are working with Jay to help Jay become a better football player and a leader on our team and help us win football games and win championships."
Replacing Knox: Emery conceded that the Bears will need to overcome the loss of receiver Johnny Knox, who retired from the NFL last week due to a serious back injury he sustained Dec. 18, 2011 against the Seahawks.
"Anytime you lose a player of that quality and that kind of speed, it does impact you," Emery said. "To say [otherwise] would be silly. Yes, it does impact us and we'll look at all avenues in terms of finding somebody that can add to that mix of wide receivers."
Asked if the Bears would try to fill the void with a speed receiver, Emery said: "I would say more specifically to find the best player that can help us."
Special specialist: Devin Hester has expressed frustration during the offseason about how he's been utilized as a receiver with the Bears, initially saying that he would consider retiring and later indicating he might seek a fresh start with another NFL team.
On Thursday, Emery declined to specify what if any role Hester would have on offense in 2013. The NFL's all-time leader with 17 kick return touchdowns has one year remaining on his contract.
"Devin is a very versatile athlete," Emery said. "Right now Devin's our returner and we're looking forward to him working with us in OTAs and see how we come out.
"Right now he is back. He'll go out there and compete to be our returner. What he does beyond that depends on how he performs in that first role as a returner."
On the mend: Emery revealed that the Bears will meet with guard Lance Louis' representative to talk about re-signing the four-year veteran. Louis, who is due to become an unrestricted free agent in March, started the first 11 games at right guard last year before sustaining a season-ending knee injury in a win over the Vikings.
"We're going to have to work through that," Emery said. "Lance has been very diligent in his rehab and we're pleased with his progress, so at some point we'll sit down and talk with his agents and work through that."
Louis was injured Nov. 25 on a block by Vikings defensive end Jared Allen that many considered a cheap shot. On Antoine Winfield's interception return in the third quarter, Allen launched himself into Louis' upper body as the Bears guard looked downfield.
Asked whether Louis would be ready to play by the start of the regular season, Emery said: "I don't think that has been determined yet. Right now, Lance is fully into his rehab and he has made significant progress and we are pleased with his progress."