With the Bears kicking off their voluntary offseason program Tuesday at Halas Hall, new head coach Marc Trestman and his staff will get their first chance to begin working with players.
"We're excited about it," Trestman told ChicagoBears.com. "No. 1, we're excited to meet them, putting names and faces together and getting to know them on a personal level.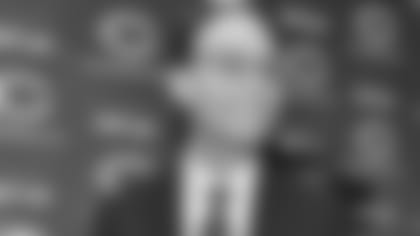 New Bears head coach Marc Trestman will kick off the team's offseason program Tuesday with a team meeting.
"We've done a little of that by phone and by text, and a few guys have [stopped by Halas Hall]. But certainly this is our first opportunity to see them and work with them and communicate with them and interact, so we're excited about that."

Trestman and his assistants have spent the last two and a half months studying tape and formulating a playbook, which will be distributed to players Tuesday on iPads.

Because they have a new coach, the Bears are permitted to begin their offseason program the first week of April. That gives them a two-week head start over teams that did not hire a new coach, something that Trestman considers "a big advantage."

"We've got so much learning to do; not only with how we teach and how we work, but then there's also the materials themselves," he said. "We've got new coaches in the room. When you change one coach or one player you've got new chemistry on your football team, so we'll begin to start from square one in terms of our general information and our playbooks."

While Trestman has familiarized himself with Bears players on tape, he's interested to see how well they're able to communicate and digest new information.

"Part of this process is to see how they learn," Trestman said. "We want to find out how they learn; what we can do to help them continue to grow as players off the field in terms of the learning process. The information we give them will help them get started."

Trestman plans to open the offseason program with a team meeting Tuesday.

"We'll start out with a setting-the-tone meeting where we'll just give them the protocol and the kind of behaviors that we want to have throughout the building," he said.

"We'll also have structured meeting time in classroom settings within the framework of the CBA and then they'll have the opportunity to be down with [strength and conditioning coordinator] Mike Clark and the bulk of their work will be in the weight room."

The Bears will conduct a voluntary veteran minicamp April 16-18 and their rookie minicamp May 10-12. They'll have 10 organized team activity (OTA) workouts from May 13-June 6 before concluding their offseason program with a mandatory full squad minicamp June 11-13.

Under terms of the NFL's collective bargaining agreement, offseason programs are limited to nine weeks and consist of three different phases.

During the first phase, which is conducted the first two weeks, activities are limited to strength and conditioning and physical rehab, with only strength and conditioning coaches allowed on the field with players. Helmets are prohibited, and footballs are permitted on the field only for quarterbacks throwing to receivers provided they are not covered by other players.

In the second phase, which takes place the next three weeks, all coaches are allowed on the field. Workouts may include individual player instruction and drills, but helmets and drills pitting the offense against the defense are prohibited, except during minicamp.

The third phase, which is conducted the next four weeks, may include up to 10 days of organized team activity (OTA) workouts. All coaches are permitted on the field and players may wear helmets, but one-on-one drills involving the offense and defense are not allowed.

Live contact is prohibited in all offseason workouts; and (excluding OTAs and minicamp) players may not be at the club facility for more than four hours per day, four days per week, on weekends, or on the field for more than 90 minutes per day.

Roster move: In other news Tuesday, the Bears released veteran defensive tackle Matt Toeaina. In six seasons, the 6-2, 308-pounder appeared in 36 games with 24 starts, recording 66 tackles, two sacks, three pass breakups, one fumble recovery and two tackles-for-loss.