Injuries have decimated the Bears defense this season, but coach Marc Trestman's confidence in the unit has grown in recent weeks, beginning with what he's witnessed in practice.
"I see the work that's being put in," Trestman said. "I stand behind the defense during their periods and I see the run fits getting better and the communication getting better."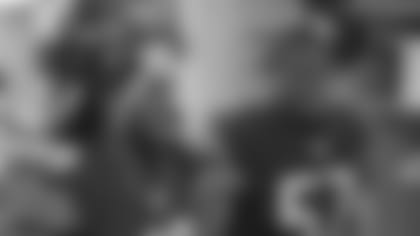 Bears rookies Khaseem Greene (left) and Jon Bostic combined for 12 tackles and one interception in Sunday's overtime win.
Veterans who've sustained significant injuries this season include linebackers Lance Briggs and D.J. Williams, cornerback Charles Tillman, defensive tackles Henry Melton and Nate Collins and nickel back Kelvin Hayden. 
Several of their untested replacements delivered huge plays in Sunday's 23-20 overtime win over the Ravens. Defensive end David Bass scored his first NFL touchdown on a 24-yard interception return, defensive end Cheta Ozougwu recorded his first sack and forced a fumble on a key fourth-down play, and linebacker Jon Bostic picked off his first pass, setting up a field goal.
"I like the fact that our coaches are embracing the development of our young players," Trestman said. "We're not spending time thinking about some of the players that we've lost. We've taken all that energy into building the best defense we can to play good team football."
While the defense continued to struggle against the run Sunday, the unit did not allow a pass completion of more than 17 yards. Protecting a 20-17 lead, the Bears also kept the Ravens out of the end zone on three straight plays in the waning seconds of regulation after Baltimore had first-and-goal at the 5.
"I think our defensive staff is doing an outstanding job putting our guys in a position during the course of the game to win," Trestman said.
Rookie linebackers Bostic and Khaseem Greene, who are playing in place of injured veterans Briggs and Williams, have been making steady progress. Against the Ravens, Bostic recorded eight tackles for the second straight game in addition to his interception and Greene added four stops.  
"I thought Jonathan had his best game in terms of his physicality in terms of running from sideline to sideline," Trestman said. "Khaseem continues to get better and more comfortable."
Another key contributor has been first-year nickel back Isaiah Frey, who has recorded 39 tackles this season in place of the injured Hayden.
"I've always been very comfortable with Isaiah," Trestman said. "People forget that we lost Kelvin in training camp and he was a significant part of what our defense was going to be.
"Isaiah has just a very mature quality about him. He's a solid guy in terms of assignments and that's really helped my confidence in the back end because of his play in the nickel."
Of course, not all the defensive stars in Sunday's win were inexperienced players. Veteran end Julius Peppers recorded a career-high 12 tackles along with two sacks and two tackles-for-loss.
"He's obviously gaining strength and momentum," Trestman said. "Really his energy level was consistent throughout the game. We all had a sense during the week that this was going to be a game that he was going to turn it up. It was good to see.
"We've chatted in my office a couple of times, just to catch up on things. I just feel like he's got a lot of pride in this football team. He doesn't want to let it down. He's done everything he can to get himself ready and I think we've managed his practice time very well.
"Mel [Tucker] and Mike Phair have managed his practice time very well to make sure that at this stage of his career his best is on Sunday. He's going to know what to do and how to do it. But he's ready to give his best on Sunday and we got a little bit of that [against the Ravens]."
Roster moves: The Bears on Tuesday waived long-snapper Jeremy Cain, which likely indicates that Patrick Mannelly is ready to return after missing the last two games with a calf injury.
The team also signed linebacker Lawrence Wilson to the practice squad. The 6-1, 229-pounder spent the preseason with the Bears, recording five tackles, one tackle-for-loss and two special teams stops.