One day after Sunday's comeback win in Cleveland, coach Marc Trestman lauded the Bears for overcoming adversity but knows they must play better to win the NFC North.
Trailing the Browns 24-17, the Bears scored touchdowns on three straight fourth-quarter drives in rallying for a crucial 38-31 victory. After missing the previous four games with a high ankle sprain, quarterback Jay Cutler shook off two first-half interceptions to throw three TD passes.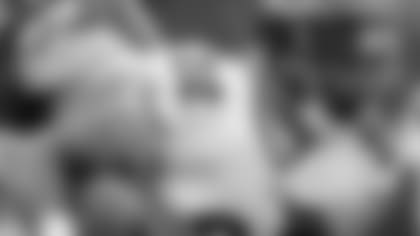 Matt Forte has three straight 100-yard games for the first time in his NFL career.
"I thought our guys did a great job of managing adversity overall," Trestman said Monday at Halas Hall. "There was a lot of it. A lot of it was self-inflicted that we had to overcome and I thought they did a great job of managing it and as we talk about just moving on to the next play."
Trestman congratulated his players after the game, but cautioned them that they must eliminate or at least reduce the turnovers and penalties that plagued them against the Browns.
After committing just seven turnovers in their previous nine games, the Bears coughed up the ball three times in Cleveland. To make matters worse, the Browns defense scored 14 points off the miscues, returning a Cutler interception and Martellus Bennett fumble for touchdowns.
Seven penalties for 40 yards were also costly. Trailing 10-3 in the second quarter, the Bears faced fourth-and-one at the Cleveland 24. After Alshon Jeffery was flagged for a false start, Trestman sent out the field-goal unit. But Robbie Gould's 46-yard kick was nullified by a holding penalty against Corey Wootton and the Bears were forced to punt.
"There were some significant penalties in the game," Trestman said. "You can't do that and expect to win week-to-week. That was a little bit uncharacteristic of us. The false starts can't happen. We're not a big shift and motion team and when we do we have to do a better job of it."
Offensively, the Bears rushed for a season-high 179 yards against the NFL's fourth-ranked run defense. Matt Forte (24 carries for 127 yards) and Michael Bush (3-44) both recorded their most productive games of the year.
"We definitely won the line of scrimmage," Trestman said. "Although we had seven tackles-for-losses, we stayed steady with the run game and kept Matt and Michael working. We knew we would find some runs along the way. I thought [coaches] Aaron [Kromer] and Pat [Meyer] and the guys did a very good job of formatting the run game. We had seven explosive runs, and against a defense like the Browns, that's a pretty successful day."
Other than the two interceptions, Trestman thought Cutler was "pretty darn efficient throwing the football." Playing for the first time since Nov. 10 against the Lions, the Bears quarterback completed 22 of 31 passes for 265 yards with three TDs, two interceptions and a 102.2 rating.
Trestman also noted that two or three of Cutler's passes sailed high when the wind was at his back because he didn't utilize proper mechanics.
"He wasn't opened up," Trestman said. "He didn't finish his throws. They came off high. They caught the wind and they drifted on him. He recognizes that and we'll work to try to improve those mechanics this week. It was very easy to see on tape and we talked about it at halftime about getting over his left side and finishing the throws."