Coach Marc Trestman lauded the Bears' leaders Monday for getting the team emotionally ready to play Thursday night against the Giants just four days after a discouraging loss to the Saints.
"It really started last Sunday night after the New Orleans game when the leadership took over the team and got in here early Monday to get ready for this game," Trestman said.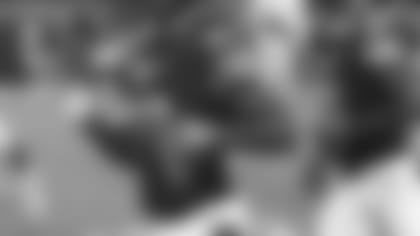 Tim Jennings returns an interception 48 yards for a touchdown Thursday night.
The first-year coach was pleased with how emotionally prepared the Bears were for the game after not being able to conduct a regular practice during the short week.

"I thought that was really good and it carried over into the game," Trestman said. "We had enough left in us to play with a sense of urgency last night and take the Giants' best shot."

The Bears scored on four straight possessions to take a 27-14 lead over the Giants at Soldier Field, but needed a late Tim Jennings interception to preserve a 27-21 victory that enabled them to improve to 4-2 and move into sole possession of first place in the NFC North.

The Bears defense permitted touchdown drives of 80, 80 and 91 yards, but intercepted three Eli Manning passes, one of which Jennings returned 48 yards for a touchdown in the first quarter. That came after Zack Bowman picked off Manning on the game's first possession.

Trestman was disappointed with how the defense fared on third down, allowing the Giants to convert 7-of-11 opportunities (64 percent), and in the red zone, giving up two touchdowns on two New York possessions inside-the-20.

"Our tackling wasn't as crisp," Trestman said. "We certainly didn't play as consistently as we have the last couple weeks. But on the other side it, when our defense had to make the plays, like they have in all our wins, they were able to come up big.

"Tim came up big last night. Zack had the big pick. We didn't make anything of it offensively, but if you're plus-three, you're going to generally win the game. We were plus-three at the end of the game and that goes to the credit of our defense making those plays."

The defense played without cornerback Charles Tillman (knee) and tackle Stephen Paea (toe) after losing tackles Henry Melton and Nate Collins to torn ACLs the past few weeks. During Thursday night's game, linebackers D.J. Williams (chest) and James Anderson (back) exited with injuries.

"There were a lot of different guys in the game," Trestman said. "We've called it the next-man-up mentality, and guys went in and played and played hard until the end.

"We're certainly not where we want to be. It's going to be exciting to see where we're going from here and how this is all going to work itself out as we move on. But as I said after the game, we've got work to do."

Offensively, Trestman was pleased that the Bears compiled a season-high 26 first downs, had a 45 percent success rate on third down (5 of 11) and did not allow a sack or commit a turnover in the same game for the first time since Dec. 23, 2007 in Green Bay.

Jay Cutler had another excellent game, completing 24 of 36 passes for 262 yards with two touchdowns and a 106.5 passer rating. He's thrown multiple TD passes in five of the first six games for the first time in his career and his 95.2 passer rating would be his best in eight NFL seasons.

"Jay was very efficient with the football," Trestman said. "He took care of it, did an excellent job with that. We talk about it all the time. If you take care of the football and you create turnovers, you're going to be in the game in the fourth quarter and have a chance to win."

Trestman was also pleased that the offense was able to kill the final 1:54 on the clock without giving the ball back to the Giants. But he wasn't happy with an intentional grounding penalty that pushed the Bears out of field-goal range when they led by six points early in the fourth quarter or a holding penalty that nullified Matt Forte's 19-yard run to the New York 9 in the third period.

Overall, the Bears coach was pleased with how efficient is team was after not practicing.

"I thought we played at least as physical or maybe more physical than the Giants up front," Trestman said. "It showed at the end of the game in our ability to move the football.

"We want to finish those drives, we want to be better, and we're going to work on that. But there were a lot of good things to build on. I think we're really close. We're going to go to work to try to get better next week."