After hiring two assistants in Aaron Kromer and Joe DeCamillis on Wednesday, new Bears head coach Marc Trestman is continuing to focus on assembling his staff.
"We've got to put together a staff of coaches of high character; men who are great teachers, men who are experts in the science of football, the science of our game, that are detailed and organized and are specialists," Trestman said Thursday during his introductory press conference.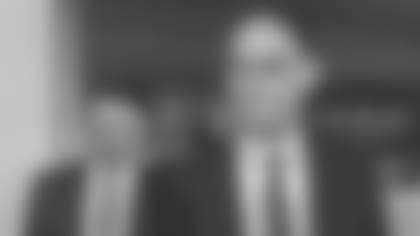 New Bears coach Marc Trestman (right) walks to Thursday's press conference with special teams coordinator Joe DeCamillis.
Trestman told reporters that he is seeking assistant coaches who "care about our players and are willing to do whatever it takes on a daily basis to help them master their craft to continue on this level of winning consistently and playing for championships."

Kromer will serve as offensive coordinator and offensive line coach, while DeCamillis was named assistant head coach/special teams coordinator. Trestman needs to hire a defensive coordinator after Rod Marinelli decided not to return to the team in that role.

"I had a chance to talk to Rod and we had a good discussion," Trestman said. "He's made up his mind to move on. We'll begin the process now of identifying those people that can be in a position [to fill the job]. But that's a process I'll begin to talk to [general manager] Phil [Emery] about."

Trestman needs to fill several openings after seven assistants from Lovie Smith's staff were informed Thursday that they would not be retained: Bob Babich (linebackers), Jeremy Bates (quarterbacks), Mike DeBord (tight ends), Darryl Drake (receivers), Tim Holt (offensive line), Tim Spencer (running backs) and Mike Tice (offensive coordinator).

Trestman plans to hire some of the coaches who were on his staff with the Montreal Alouettes in the CFL.

"Yes, there will be some guys coming down," he said. "I have talked to them about it, but we haven't locked it up because they may have other opportunities or decide to move in a different direction. But I would expect we would have a few guys from the staff come south."

While Trestman is ultimately responsible for hiring his assistants, he will consult with Emery.

"I have final say on the staff," Trestman said. "Certainly with anything Phil and I do, it's going to be a collective process. I want his input. I don't have all the answers. He can give me perspective I don't have."