In over 20 years as a pro football coach, Marc Trestman has never seen a defense that's more adept at generating takeaways than the one he works with regularly at Halas Hall.
After leading the NFL with 44 takeaways last season, the Bears have picked up this year right where they left off. They topped the league with 14 takeaways during the preseason and are once again No. 1 through three weeks of the regular season with 11.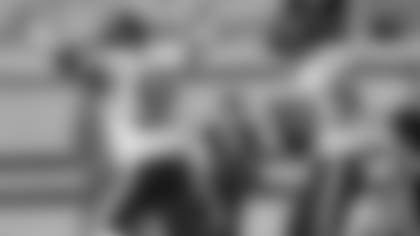 Lance Briggs escorts Julius Peppers to the end zone in the Bears' win over the Steelers last Sunday.
"We saw it right from the first day of OTAs," said Trestman, the third coach in Bears history to win his first three games. "They were knocking it out and it didn't change in training camp."

After producing three takeaways in each of their first two wins over the Bengals and Vikings, the Bears generated five in last Sunday's victory over the Steelers. Safeties Major Wright and Chris Conte had interceptions, while James Anderson, Henry Melton and Julius Peppers recovered fumbles that were caused by D.J. Williams, Wright and Lance Briggs, respectively.

"They have techniques and fundamentals to be able to do it," Trestman said. "They've done a great job. And when you see those things happen, it's not just one guy. It's really the group, the connective group that's putting it all together and making it happen. One player may be making the punch out, but there's a lot that goes on around him to get that done."

The Bears also lead the NFL with 44 points off takeaways. They've scored three defensive touchdowns in three games this season after producing nine last year, which tied for the second most in league history behind the 1998 Seattle Seahawks, who had 10.

Tim Jennings returned an interception 44 yards for a touchdown in a Week 2 win over the Vikings. A week later, Wright and Peppers scored TDs against the Steelers on a 38-yard interception return and 42-yard fumble return, respectively.

The Bears lead the NFL with 28 interception return touchdowns since 2004 as well as 10 interception return TDs and 29 interceptions overall over the last two seasons.

Since arriving as a second-round pick in 2003, Charles Tillman has set a Bears record with nine career defensive touchdowns and his 39 forced fumbles are the most by any NFL player. Wright's three interception return TDs are the most by an NFL safety since he entered the league in 2010.

"We've done it by punching it out, we've done it by scooping and scoring," Trestman said. "We've done it by literally just grabbing it out of guys' hands.

"The interceptions are a little more the norm. You get a good pass rush, you get a hand in a guy's face, you disguise a coverage, you're going to get a turnover that way. Teams do that. But it's the other things that are around that; the strips, the punching out. The way they've done it in terms of technique-wise, it's terribly unique."

It's a mentally that was created by previous coach Lovie Smith and continues under Trestman.

"That's all we preach all day inside of practice, outside of practice," said Williams, who signed with the Bears in March after spending his first nine NFL seasons with the Broncos. "And not only do we preach taking the ball away, but we preach scoring. In practice, whether it's a fumble or not, we're scooping it and we're running all the way through the end zone."

The Bears' penchant for causing turnovers is something that opponents are keenly aware of.

"It's something that's definitely talked about as well as they do it," said Lions star receiver Calvin Johnson, who will face the Bears Sunday in Detroit. "That defense has been forcing turnovers for a long time. That's the way they get off the field. It's been part of their DNA for a while."