The Bears are hopeful that left tackle Jermon Bushrod will be able to start Sunday against the Dolphins after missing two games with knee and ankle injuries he sustained in practice.
"I am optimistic," said coach Marc Trestman. "We're hopeful that we can get him back into the mix. We'll see where he is on Wednesday at practice."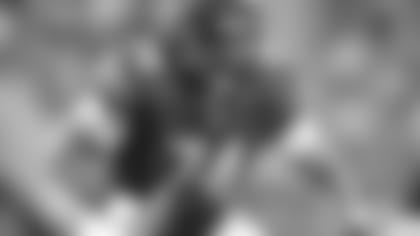 Left tackle Jermon Bushrod has anchored the offensive line since joining the Bears last year.
If Bushrod is able to return, it would mark the first time the regular starting line is back intact since left guard Matt Slauson and center Roberto Garza exited the season opener with ankle injuries.
One of three NFL teams to start the same five linemen in all 16 games last year, the Bears have employed four different combinations in six games this season due to the injuries.
Before getting hurt Oct. 1 when a teammate rolled up the back of his leg, Bushrod had made 74 consecutive starts dating back to 2009 when he was with the New Orleans Saints.
Road support: Thousands of Bears fans made their presence known in Sunday's win in Atlanta, generating so much noise that at one point the Falcons had to take a timeout.
"It was almost like playing at home," Trestman said. "Our fans were out there. I think that the Bear fans were certainly a factor during the game. We had a lot of third-and-long situations and it made it difficult for Matt Ryan and the Atlanta offense to communicate at times, which was good for us."
Falcons offensive coordinator Dirk Koetter conceded Tuesday that he had to employ a silent count in the second half because of the noise the Bears fans were making.
"Believe it or not, for a home game, we had to go to a silent count because there was enough noise in the dome," he said. "Noise always echoes in there both for us and against us. That's maybe only the second time since I've been here when we've had to go to a silent count at home."
Catch this: After matching his uniform number with 22 catches in the last two games, Bears running back Kyle Long will enter Week 7 leading the NFL with 46 catches.  
But Forte's pass-catching ability isn't a new phenomenon. The seven-year veteran leads NFL running backs with 387 receptions since he entered the league and ranks second in Bears history among all players behind only Hall of Famer Walter Payton (492).  
"He's been playing at a high level as a receiver since the day we walked in here," Trestman said. "He's been consistent in his ability to make plays in space and be where he's supposed to be in the passing game. [Offensive coordinator] Aaron [Kromer] and the guys do a great job in protection so we're at times able to alleviate the protection for him so we're able to get him out and that's unique to how we try to help him."
Smart thinking: One of the best decisions quarterback Jay Cutler made in Sunday's win came late in the first half when he used his left hand to chuck a short pass over the middle.
With :10 left in the half and the Bears out of timeouts, Cutler knew he had to get rid of the ball to ensure a shot at a field goal. Falcons defensive end Jonathan Massaquoi immediately spun past right tackle Jordan Mills and was about to hit Cutler when the quarterback switched the ball to his left hand and heaved it about five yards. The pass hit an official and fell harmlessly to the ground.
Robbie Gould's 28-yard field goal on the next play gave the Bears a 13-3 lead.
"We knew we were going to need the points," Trestman said. "We wanted a chance to do it and Jay was creative enough to not only throw it away but he didn't throw it in a place where anybody could catch it."
Roster move: The Bears on Tuesday re-signed linebacker Terrell Manning to the practice squad. He has appeared in three games on special teams for the Bears this season, including Sunday's win over the Falcons. Manning was waived from the 53-man roster on Monday.