The Bears concluded their voluntary minicamp Thursday with another spirited practice that was about 30 minutes shorter than their first two sessions Tuesday and Wednesday.
"We had a really good three days," said first-year coach Marc Trestman. "Today we shortened down. The guys have really worked hard. They have run hard here and I wanted to make sure we left with no pulls or any injured players. It was a good week. Everybody came off healthy."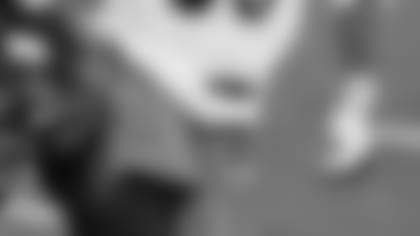 Bears linebacker James Anderson pursues running back Michael Bush during a drill Thursday in the Walter Payton Center.
On Thursday, Trestman and the Bears installed a high volume of offensive plays for the third straight day, introduced some blitzes that gave the offensive line new looks, and continued to focus on special teams fundamentals, working on tackling and how to take on blocks.

"I think we got better acquainted with how we do business, both in meetings and on the field," Trestman said. "I thought that was huge.

"Basically what we're trying to do in this camp is just get people lined up and understand the principals of how to do things. There were enough good things in there. Next week we'll cut up the tape by concept and we'll begin to re-teach everything when we have more time to do that.

"We did it quickly in meetings and out here. When they get a rep at it next week, we'll spend time with each and every concept and really start honing in on the details of it. No. 1 is just learning the conceptual side and as we work through the offseason days to talk about the fundamentals."

No regrets: The Bears announced March 20 that they were unable to reach agreement with Brian Urlacher on a contract, thus ending his illustrious 13-year career in Chicago.

While Urlacher accused the Bears of giving him an ultimatum rather than negotiating, general manager Phil Emery said this week that he has no regrets about how the situation was handled.

"Absolutely not," Emery said Tuesday when the Bears kicked off their voluntary minicamp. "It was a very straightforward process. We had a very honest and open exchange between Brian and his representatives. There was no lack of clarity. There were no surprises during this period.

"Brian's been a great player. He's a Hall of Fame player. He's done great things for the Chicago Bears. It's been a win-win. As far as Brian and the Chicago Bears, that's been a great happening for the city of Chicago, for our fans and for the Bears.

"It's also been good for Brian. We've committed more resources to Brian than any Bear in the history of the organization. We were willing to commit more. In the end, we just could not agree on what that amount was. It's no more than that."

Asked about the likelihood of the Bears re-signing Urlacher in the future, Emery told reporters that he's learned not to use the word "never" but that the team is moving forward and the focus is on the roster on the field.

Draft prep: While players are off Friday through Sunday, Trestman will be at Halas Hall alongside Emery as the Bears prepare for next week's NFL Draft.

"I've been in every [draft] meeting, sat next to Phil in every meeting," Trestman said. "I've listened to all the reports of scouts, and our coaches have spent most of the time individually by position with myself and Phil and whatever various scouts are assigned to those areas and those players.

"I'll be spending the weekend with Phil, watching tape with him throughout the weekend and into next week."

Roster move: The Bears on Thursday waived guard/tackle Chris Riley, a first-year pro from Illinois State who has also spent time with the Bengals and Buccaneers without appearing in a regular-season game. Their roster now stands at 73.