With the end of their three-day minicamp Thursday, the Bears completed their offseason program and won't meet again until reporting to training camp July 25 in Bourbonnais.
"This concludes just a heck of an offseason," said first-year coach Marc Trestman. "We got our practice tempo up, we had great meetings, learned how we were going to meet, divide our time up during the day, the whole thing. It culminates a major portion of our offseason and [leads] into the next step, which will be training camp."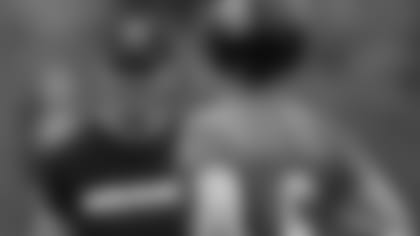 Coach Marc Trestman chats with quarterback Jay Cutler during practice at Halas Hall.
Because they have a new head coach, the Bears were permitted to begin their offseason program the first week of April, two weeks earlier than teams with returning coaches.

Under terms of the league's collective bargaining agreement, offseason programs are limited to nine weeks and consist of three different phases.

During the first phase, activities are restricted to strength and conditioning and physical rehab, with only strength and conditioning coaches allowed on the field with players.

"Our players really got into our weight and strength and conditioning program with Mike Clark and they did an excellent job there," Trestman said. "We think we're a stronger, more explosive football team going into this offseason. We'll see where that takes us as we get into camp."

Training camp practices will mirror the minicamp workouts the Bears held this week.

"It's going to look very similar to what we've seen here," Trestman said. "This is how we're going to practice during training camp. They're marathon practices. We get one a day. There are a lot of reps.

"I think you could see the energy was high from start to finish, which is exceptional. It's going to be hot down there. I think our conditioning will be measured at that time more than any other. We had a hot day early this week. You saw it, and I think it caught us by surprise a little bit. But I think the guys bounced back. Our practices will look very similar to what they did today."

Trestman lauded Bears players for adapting quickly to a new coaching staff.

"I think we got a lot done and looking back a lot of things came together," he said. "[There were] a lot of changes in everybody's life as we proceeded through this entire offseason. I thought the guys were-as I've said almost every day-extremely cooperative and very flexible.

"That goes to our veterans that have really done a great job of making the changes that we need to make and the subtle things that we've done that are different than what has been done before, and showing our young guys how to do things the right way as professionals was a good start."

The Bears came out of their offseason program without any major injury concerns. Every player on the roster is expected to be able to practice when training camp begins. That includes receivers Brandon Marshall, Alshon Jeffery and rookie Marquess Wilson, all of whom have recently been sidelined.

Marshall, who is recovering from offseason hip surgery, participated in the first minicamp practice Tuesday before sitting out workouts Wednesday and Thursday.

"We left it up to Brandon to assess his body and where he is," Trestman said. "We thought it was best collectively to keep him out of practice as much as we could and we did and he'll be ready to go next month."

The absence of Marshall and Jeffery-who was limited after tweaking his hamstring while making a diving touchdown catch last week-gave young receivers an opportunity to shine in practice.

"I think we turned it into a positive," Trestman said. "We got a great look at some of the young guys. They were ready to step in. We had very few if any mental errors there. They were running routes at full speed. We were catching the football when they had the opportunity. So it was good for them to get the reps, and get the reps against our top players on defense."

Roster move: In other news Thursday, the Bears waived rookie cornerback Maurice Jones, an undrafted free agent from Temple.