As guest columnist for this week's edition of Peter King's Monday Morning Quarterback, Bears coach Marc Trestman reflects on his five seasons as head coach of the CFL's Montreal Alouettes.
"I never looked at the job as a stepping stone to a head coaching position in the NFL, but was simply grateful to owner Bob Wetenhal and general manager Jim Popp for the opportunity to become a head coach and to serve the players and entire organization as well as their great fan base," Trestman writes on SportsIllustrated.com.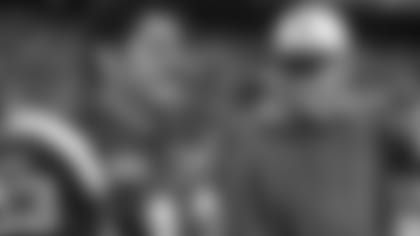 Marc Trestman stands on the sideline next to star Alouettes quarterback Anthony Calvillo.
"I can also tell you I absolutely loved every minute of my time in Montreal, one of North America's great cities. I also loved and respected the players and coaches, as well as the brand of football played in the CFL."
After 17 years as an NFL offensive coordinator and position coach, Trestman served as the Alouettes' head coach from 2008-12, compiling a 59-31 record and winning back-to-back Grey Cup championships in 2009 and 2010. He was hired by the Bears in January 2013.
"CFL football is a fast and exciting game," Trestman writes. "I never really changed my football philosophy very much to fit the CFL—because I was convinced you could play the same way we do in the NFL. But without Anthony Calvillo, the all-time leading passer in Canadian football history, the support of GM Jim Popp and the entire organization with so many good football players, I am sure it would have not been possible."
Trestman was named CFL coach of the year in 2009 and helped Calvillo earn back-to-back league MVP honors in 2008 and 2009.
"People have asked me what I learned in my five seasons in the CFL, and how it prepared me for the NFL." Trestman writes. "The simple answer is there's no way I'd have been as prepared to be an NFL head coach without my five years in Canada. I'd had 11 stops as an assistant coach in college or pro football before I was hired by Montreal. I found that being a head coach in Canada was a great training ground for being a head coach in the NFL."