Minus the power outage, new Bears coach Marc Trestman can relate to what transpired Sunday night between the Baltimore Ravens and San Francisco 49ers at the Superdome.
Just like Super Bowl XLVII in New Orleans, the Canadian Football League's 2009 Grey Cup in Calgary featured a dramatic second-half comeback and a fantastic finish.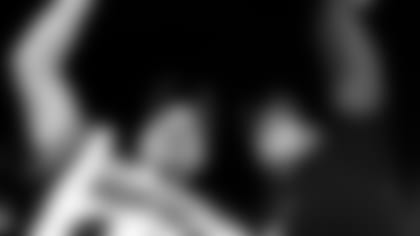 Quarterback Anthony Calvillo and head coach Marc Trestman hoist the Grey Cup Trophy in 2009.
In Trestman's second season as head coach of the Montreal Alouettes, his team erased a 16-point deficit midway through the fourth quarter of the title game, edging the Saskatchewan Roughriders 28-27 on Damon Duval's 33-yard field goal with no time remaining.
Duval had pushed a 43-yard attempt wide right as time expired, but the Roughriders inexplicably drew a 10-yard penalty for having too many men on the field, giving the Montreal kicker another chance.
"I was very thankful," Duval said. "The first thing I did [after the flag was thrown] was look up and thank the man upstairs. You don't get too many second chances in a game, and I just have to thank my lucky stars that this was one time that we got a second chance and I was able to put it through."
Things looked bleak for the Alouettes when the Roughriders took a 27-11 lead on quarterback Darian Durant's 16-yard touchdown run with 10:32 left in the fourth quarter.
But Montreal cut the deficit to 27-19 on Avon Cobourne's three-yard touchdown run coupled with Anthony Calvillo's two-point conversion pass to Kerry Carter with 6:46 remaining.
Jerald Brown followed by intercepting Durant's pass intended for Andy Fantuz—a receiver who spent the 2011 offseason with the Bears—setting up Calvillo's 11-yard TD pass to Ben Cahoon. The Alouettes' two-point conversion failed, but they had crept to within 27-25 with 1:45 to go.
After the Roughriders were forced to punt without making a first down, Calvillo led Montreal into position to win its first Grey Cup since 2002. The veteran quarterback set up Duval's game-winning field goal by completing a 17-yard pass to Kerry Watkins with :05 left.
"We didn't quit and the guys came back—and what a joyful event," Calvillo said. "We wanted another chance to come back and win a championship and we pulled it off. What a feeling."
Calvillo completed 26 of 39 passes for 314 yards and two touchdowns in the game.
"This man is an unbelievable leader," Trestman said. "He flew this plane on his own. He is a leader in the truest sense and the team rallied around him."
The victory came one year after the Alouettes had lost the Grey Cup to the Calgary Stampeders in Trestman's first season as coach. He went on to win back-to-back titles as Montreal defeated Saskatchewan again in 2010.