Reviewing tape of Sunday's 40-32 loss to the Lions, one thing stood out to Bears coach Marc Trestman. Well, actually, there were four things: Three interceptions and one lost fumble.
"At the end of the day it still comes down to the turnovers," Trestman said Monday at Halas Hall. "You go on the road and you turn the ball over four times and it's going to be very difficult to win."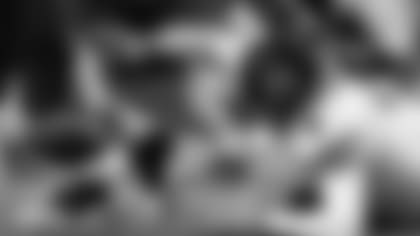 Ndamukong Suh forced a Jay Cutler fumble that Nick Fairley returned four yards for a touchdown in the Bears' 40-32 loss to the Lions Sunday in Detroit. Click here for a photo journal of the game.
The Lions turned the four Bears turnovers into 17 points, returning a Jay Cutler fumble four yards for a touchdown and bringing back a Cutler interception 42 yards to the Chicago 2, setting up another TD on the next play as part of a 27-point explosion in the second quarter.
"As much as we give credit to Detroit—they played hard and I told the guys I thought the Lions played a full 60 minutes; they gave us everything for 60 minutes—we didn't hold up our end of the bargain in all three phases," Trestman said one day after the Bears fell to 3-1.
Reggie Bush gouged the Bears run defense, gaining 112 yards and one touchdown on 11 carries in the first half. But Trestman pointed out that his team's offense and special teams didn't do the defense any favors with the four turnovers and a 57-yard punt return.
The Lions scored on six straight possessions in the first half, starting four of those drives at the Chicago 31, Chicago 22, Chicago 2 and Detroit 49.
"Our defense was on a short field four times during the game," Trestman said. "It was very difficult for the defense to make stops in all those situations under the circumstances."
Trestman praised the Bears defense for generating three takeaways, forcing two additional fumbles the Lions recovered, holding Detroit's offense to 2-of-10 on third down in the game and three points in the second half, and containing Calvin Johnson. The Lions star receiver had just four receptions for 44 yards while being targeted 10 times, though he did catch a 2-yard TD pass.
The biggest negative for the Bears defense was the unit's inability to stop Bush, especially on runs up the middle. He dashed 37 yards for a touchdown and also had runs of 17, 16 and 15 yards.
"We have to do a better job with our [run] fits and our tackling," Trestman said. "That was the least productive part of our football. They had over 100 yards rushing on missed tackles and missed fits, so that's really where we have to focus on defensively regarding our run defense."
Trestman felt the Bears generated decent pressure on quarterback Matthew Stafford, though their only sack came late in the first half when Julius Peppers forced a fumble that Shea McClellin recovered, setting up a Robbie Gould field goal.
"I thought we got pressure on the quarterback and I thought over the last couple weeks our pressure has gotten better," Trestman said. "They ran a lot of really short little bubbles to try to attack that little quick, little flat to the tight end. They did that couple times.
"There wasn't a lot of down-the-field passing. We were in a lot of cover-two. We had some single safety, but a lot of cover-two so they were checking the ball down. But we had pressures, not the hits we normally would get, but I still feel we're coming along in that regard."
Offensively, three of Cutler's four turnovers could be attributed more to fundamental breakdowns than poor decision-making. His feet weren't set on two interceptions and he held the ball too low and too long on his fumble that was returned for a touchdown.
Trestman felt the offensive line provided solid protection, especially given the fact that the Lions knew the Bears had to pass on virtually every play after falling behind by three scores early.
"I thought our line really handled the pass rush very well," Trestman said. "Jay had to move around a couple of times, but overall you don't want to throw the ball 47 times against the Lions. That's the last thing you want to do. It stressed our offensive line, but I thought they measured up and did a very sufficient job protecting."
The Bears entered Week 4 ranked ninth in the NFL in third-down efficiency, having converted 43.9 percent (18 of 41). But they were held to 1-of-13 by the Lions.
"We looked at the tape today and we felt we should have had five or six of those in our favor and come out with a very productive third down," Trestman said.
"We didn't do it and we have to take responsibility for that. But it was much more on our execution and handling things than it was on the coverage or what we were seeing defensively. We give Detroit their credit on some of it-they did a good job-but overall we felt we could have done a better job on third down just executing."