Since battling through an ankle injury to catch three touchdown passes in a Week 2 win over the 49ers, Brandon Marshall has just six receptions for 69 yards and 1 TD in three games.
After the Pro Bowl receiver was limited to three catches for 44 yards in Sunday's loss to the Panthers, coach Marc Trestman stressed the need to get Marshall more involved in the offense.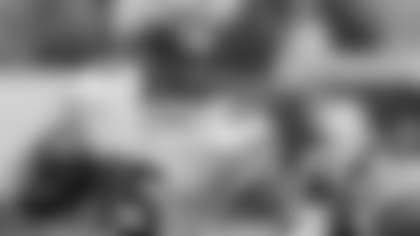 Brandon Marshall has caught 19 passes for 188 yards and a team-high five touchdowns this season.
"He's been targeted certainly," Trestman said. "[But] we're going to go back and do some work on that to make sure we're doing all the right things in that regard.
"We targeted him [Sunday]. He had a lot of calls. [But] they took it away and Jay [Cutler] did the right thing by going other places. We want [Marshall] to have more productivity. When he touches the ball good things happen and over the last couple of weeks we haven't been able to get that done.
"It's certainly something that we have to continue to work on to get him back involved where he can get more touches that will result in bigger plays."
Marshall hurt his ankle in a Week 1 loss to the Bills and aggravated the injury a week later against the 49ers. He practiced without restrictions last week for the first time since the opener.
After catching 118 passes for 1,508 yards in 2012 and 100 passes for 1,295 yards in 2013, Marshall is on pace to finish the season with 61 receptions for 602 yards.
Asked how Marshall has dealt with his decline in production in recent weeks, Trestman said: "For the most part Brandon has done well. We've had an open line of communication. We talked [Monday] morning about it. We talked last week about it in terms of trying to create that environment and we're going to continue to press on and do that.
"I kind of looked at it at times as a little bit of a batting slump for a hitter. We don't get as many opportunities as those hitters get certainly, but we've got to do a better job of getting him more swings at the plate and allowing him to take more shots."
After catching 17 passes of at least 20 yards in both 2012 and 2013, Marshall's longest reception in five games this season has been an 18-yarder against the Panthers. His big-play ability no doubt was hampered by his ankle injury, but Trestman conceded the receiver hasn't been his jovial self of late.
"Brandon is not happy because he's not being as productive as we'd like him to be and he's not contributing like he wants to contribute to the offense," Trestman said. "But at the end of the day he comes to work every day, he prepares and he works hard in practice."
Marshall was targeted only five times against the Panthers, but that doesn't mean the Bears weren't trying to get the ball to him on other plays. Cutler was sacked on one occasion and scrambled for a 10-yard touchdown on another.
"On the touchdown play that Jay ran, that was a called target to Brandon," Trestman said. "He was the primary [receiver]. They had been a team that has played a lot of cover-two. They played a flatter coverage to take him away and they did. They took everybody away and Jay did the right thing by running for the touchdown.  
"So we're calling those plays. We've got to continue to work hard. I take responsibility for that, for trying to find different ways for him to get the football where he can touch it and not just be the target. It's great that he's the primary receiver, but we've got to make him the primary receiver when he has the opportunity to catch the ball, and we'll work at that. We've got some work to do on that, especially based on the last couple weeks."