Given the importance he intends to place on protecting Jay Cutler, it's not difficult to figure out what one of Marc Trestman's top priorities will be on the other side of the ball.
"On defense it all starts with the quarterback, doesn't it?" the new Bears head coach said last week. "We've got to hurry him. We've got to hit him. We've got to knock him down."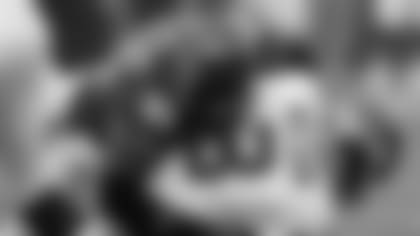 Defensive end Julius Peppers sacks quarterback Russell Wilson in a Week 13 loss to the Seahawks.
Trestman was hired by the Bears due in large part to his impressive background on offense and ability to develop quarterbacks during a lengthy coaching career that began with the Vikings in 1985. But that doesn't mean the 57-year-old doesn't know what he wants from the Bears defense.

"We've got to stop the run on first down and get off the field on third down," Trestman said. "We've got to build frustration with opposing offenses, and then we've got to do what this team has done best and what this team stands by in the past: We've got to create turnovers with every play."

Last season the Bears led the NFL with 44 takeaways while the defense ranked sixth in third-down efficiency (35.5 percent) and eighth in sacks (41) under coordinator Rod Marinelli. Trestman recently hired Mel Tucker to replace Marinelli, who opted to leave the team and join the Cowboys.

Special effort: Trestman also knows exactly what he would like from the special teams unit, which will be under the direction of veteran coordinator Joe DeCamillis, who replaces Dave Toub.

"On special teams we all know it's winning the battle of field position," Trestman said. "It's creating game-changing and explosive plays. We've seen it around here, and we're going to use the best players when possible to get those plays run and those plays done during the course of a game.

"Most importantly we want to see our team's pride. We want to see our team's passion within our special teams play that will extend throughout our football team and in the stands."

Good impression: Bears general manager Phil Emery ultimately was responsible for hiring Trestman. But it certainly didn't hurt that the coach made such a positive impression on chairman George H. McCaskey and team president and CEO Ted Phillips.

"I met him when he came back for his second interview," McCaskey said. "I was impressed with his passion for the game and passion for life, and I was impressed with his humility.

"With any candidate you look at their body of work, their strengths, and see if they have any weaknesses. Marc's record is well-established as an offensive mind and successful head coach."

"He's got great passion for the game," Phillips added. "He wanted to be the head coach here and he worked hard at it. He proved himself. He showed that he was a leader of men and that he had a great ability to coach all sides of the ball, and on the offensive side there's none better."

The right guy: The Bears think that Trestman will mesh well with Cutler.

"I think they've got a lot of similarities," McCaskey said. "They're both talented. They're both bright. They're both passionate about the game and they both want to be great, so I think that will be a good combination."

"Obviously the offense is going to go as far as Jay takes it and I think Marc's the right guy to make him as good a quarterback as he can possibly be," Phillips said.

Award winners: Bears center Roberto Garza and former linebacker Otis Wilson were among the Chicago professional athletes honored Thursday night at the 25th Annual Comcast SportsNet Awards to benefit the March of Dimes at the Hilton Chicago & Towers. The honorees were chosen based on the contributions they've made to their teams as well as the Chicago community.