Bears inside linebacker Danny Trevathan returned to practice on a limited basis Wednesday for the first time since injuring his thumb in a Week 2 loss to the Philadelphia Eagles.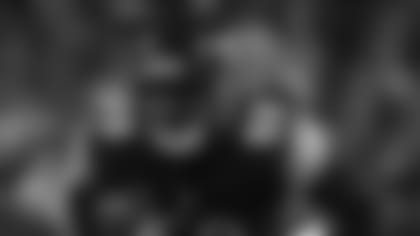 Bears ILB Danny Trevathan returned to practice on a limited basis Wednesday for the first time since injuring his thumb.


It is not yet known whether Trevathan, who underwent surgery to repair the injury, will be able to play Sunday when the Bears visit the Indianapolis Colts at Lucas Oil Stadium.
"I thought he looked good today," said coach John Fox. "We'll kind of evaluate it as we go through the week. I think our medical people have done a good job as far as the protective cast for that thumb, so we'll kind of see where that goes. But he moved around well today."
A prized free-agent acquisition, Trevathan recorded 15 tackles and one sack in the Bears' first two games. Of course, it's not clear how effective he would be wearing a cast on his thumb.
"I don't know the answer to that, other than my experience has been that it hasn't been good," said defensive coordinator Vic Fangio. "But the protection that he had on it today wasn't as bulky as I thought it was going to be, so I think he's got a chance.
"I wasn't watching him the whole time today. When we go up and look at the tape I'll focus on that and see how it's affecting him. He thought he was fine with it, but we'll see."
Stepping up: Fangio was pleased with how Bryce Callahan performed while making his first start of the season at cornerback in last Sunday's 17-14 win over the Lions.
Callahan served as the Bears' primary nickel back last year as an undrafted rookie from Rice. He lined up at cornerback in training camp, but his development was slowed by an injury.
"I thought he played well," Fangio said. "He hadn't been out there too much. We worked him out there a lot in training camp prior to his injury in camp, which put him out basically for all the preseason games. So it was his first time back there in a little bit and I thought he did well."
Aggressive near the line of scrimmage, Callahan was credited with five tackles, with four of the stops coming on pass plays that gained 4, 1, 4 and 0 yards.
"He's got good speed and good quickness," Fangio said. "He's got good instincts. He tackled well the other night, which was very good. I just think he's a good football player."
Injury update: Trevathan was one of 16 Bears players on the injury report Wednesday. Those who did not practice were quarterback Jay Cutler (right thumb), outside linebacker Leonard Floyd (calf), nose tackle Eddie Goldman (ankle), running back Jeremy Langford (ankle), and receivers Eddie Royal (calf) and Kevin White, who was placed on injured reserve with a broken fibula and high ankle sprain he sustained last Sunday against the Lions.
In addition to Trevathan, players who were limited included defensive end Jonathan Bullard (shoulder), running back Ka'Deem Carey (hamstring), receiver Alshon Jeffery (knee), linebacker Nick Kwiatkoski (elbow), cornerbacks Tracy Porter (knee) and Sherrick McManis (hamstring), guard Josh Sitton (shoulder) and outside linebacker Willie Young (knee).
Roster moves: White's spot on the roster was filled by fullback Paul Lasike, who was promoted from the practice squad. Lasike played in the Bears' first two games this season, was waived Sept. 21 and then re-signed to the practice squad the next day.
Lasike entered the NFL in 2015 with the Cardinals as an undrafted free agent from BYU. After being waived by Arizona, he spent most of his rookie season on the Bears practice squad.
The Bears on Wednesday also signed tight end Busta Anderson to their practice squad. Anderson was selected by the 49ers in the seventh round of the 2015 draft and has yet to appear in an NFL regular-season game.
Play ball: Fangio told reporters that he's "feeling pretty good about" the Cubs' chances of winning the World Series, though he feels it would be an easier road if the Mets lose to the Giants Wednesday night in the National League wildcard game.
"I thought [the Cubs] were going to do it last year and then the termites hit the bat rack," Fangio said. "They couldn't hit the Mets pitching, so we've got to get the Mets out of there tonight."