New Bears inside linebacker Danny Trevathan knows what it's like to win a Super Bowl and the lottery just a little over a month apart.
The 25-year-old became an NFL champion with the Broncos Feb. 7 and then cashed in a winning free-agent ticket this week when he signed a lucrative contract to rejoin a head coach that he thrived under in Denver.
"It just worked out perfectly for me to be here," Trevathan said Thursday at an introductory press conference he shared with fellow free-agent signee Bobby Massie, a tackle who played his first four NFL seasons with the Cardinals.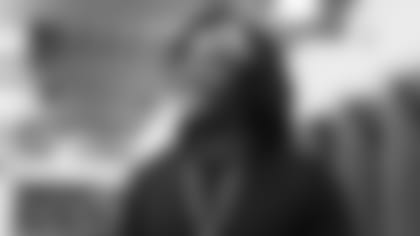 Danny Trevathan led the Broncos' No. 1-ranked defense with 109 tackles last year.


Trevathan led the Broncos' No. 1-ranked defense with 109 tackles last year and recovered two fumbles in Denver's 24-10 win over the Panthers in Super Bowl 50.
But he had an even more productive campaign in 2013 when Bears coach John Fox served in the same capacity with the Broncos. The 2012 sixth-round draft pick set career highs that season in virtually every category with 129 tackles, 10 passes defensed, three interceptions, three forced fumbles and one fumble recovery.
"He was always in my ear," Trevathan said. "He used to make funny quotes, funny sayings, like, 'I checked my rulebook today and it said you can be great.' Just stuff like that stuck with me. I always respected him and he was always in my ear telling me, 'Danny, no matter where you come from, you can go places, man. Sixth-round draft pick, people overlook you, but you're here now, make a name for yourself.'"
Trevathan did just that with the Broncos, putting himself in position to earn a huge payday in free agency. He attracted interest from other NFL teams on the open market, but the chance to play for Fox again was too enticing to pass up.
"It played heavily," Trevathan said. "Especially going back to him giving me my first opportunity to play, coaching me, helping me to want to be great and getting close to that. It definitely helped me getting here and there are some familiar faces around here, so it helped me make an easy transition."
Some of those familiar faces are Bears special teams coordinator Jeff Rodgers, defensive line coach Jay Rodgers, offensive line coach Dave Magazu and director of pro scouting Champ Kelly, all of whom were with the Broncos during Trevathan's first three seasons in Denver.
Trevathan is looking forward to playing in a 3-4 defense for the second straight season, especially one that's coordinated by Vic Fangio.
"He's really a mastermind with it and one of the coolest defensive coordinators out there," Trevathan said. "So I'm really excited about that. Knowing the way he thinks, it's going to be an easy transition, just talking to him, knowing this defense. I'm always willing to learn and that's a great guy to learn from.
"He's the wizard at scheming; making up plays and putting you in the best position possible. So I think it's a great situation here."
Trevathan is a three-down linebacker who possesses the speed and athleticism to cover tight ends. He joins a Bears defense that improved from 30th in 2014 to 14th in total yards last season but failed to produce many impact plays.
In 2015, the unit generated just 15 takeaways, didn't have a player with more than two interceptions for the first time since 1975 and didn't score a touchdown on an interception or fumble return for the first time since 1997.
Despite those sobering statistics, Trevathan has high expectations for the Bears defense in 2016.
"I see a lot of hustle, attitude and I see a lot of ambition in these guys," he said. "That's stuff you can work with and I feel I fit great with this defense. I know some faces around here. I've met some of the guys. I feel like these guys are ready to push it to the next level. My job is to do whatever I need to do to help them get over that."