The Bears have lost five straight games and their offense ranks last in the NFL in total yards. But rookie quarterback Mitchell Trubisky is confident that better days are ahead.
"For me it's not hard, just having that unwavering faith, no matter what happens, that you can be successful," Trubisky said. "People have gone through a lot worse, a lot worse seasons and come out on the other side. You try to look at those success stories."
One of those success stories is in Los Angeles, where quarterback Jared Goff has led the Rams into first place in the NFC West with a 9-3 record after they finished 4-12 last year during his rookie season. From Year 1 to Year 2, Goff has improved his passer rating from 63.6 to 98.4 and his touchdown-to-interception ratio from 5-7 to 20-6.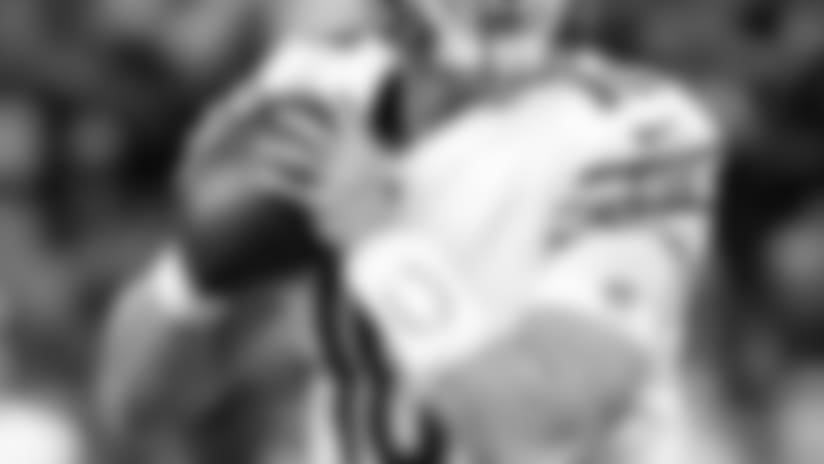 Bears quarterback Mitchell Trubisky attempts a pass against the Saints.


Another success story is in Philadelphia, where quarterback Carson Wentz has led the Eagles from worst to first in the NFC East, improving his passer rating from 79.3 to 102.0 and his touchdown-to-interception ratio from 16-14 to 29-6.
"You can just always believe you'll beat the odds," Trubisky said. "I've done things throughout my life that [others] said couldn't be done and I'm standing here today as a rookie in the NFL. Anything's possible with hard work and dedication. If you love the game you're playing, which we do, it can only get better from here. It's one day at a time. We're just going back to work."
Trubisky was efficient in last Sunday's loss to the 49ers, completing 12 of 15 passes for 102 yards with one touchdown and a 117.2 rating. But the Bears offense generated just 147 yards and eight first downs one week after being held to 140 yards and eight first downs in a loss to the Eagles.
Facing a San Francisco defense that ranked 28th in the NFL, allowing an average of 374.2 yards per game, the Bears produced only one play over 14 yards—a screen pass that Tarik Cohen turned into a 21-yard gain by breaking three tackles.
Asked what area the Bears most need to improve heading into Sunday's game against the Bengals in Cincinnati, Trubisky said: "More explosive plays. Be better on first and second down so we're not always in third-and-longer situations. We want to be in third-and-manageable. Or just go first down, second down, first down with the explosive plays. We just need to get the ball into our playmakers' hands, stay efficient and be good with the football."
In their last two games, the Bears have generated one run of more than nine yards and one pass of more than 14 yards.
"When you don't create those explosive plays, those 16-yard passes, those 12-yard runs, what happens is you've got to stack five or six third downs in a row and you've got to put a 12- to 14-play drive together," said offensive coordinator Dowell Loggains. "And right now the way we're executing and playing, we're not doing that enough constantly.
"We had two or three nine-play drives that stalled out for us where we need to find a way to hit an explosive pass or an explosive run. Sometimes that's yards-after-the-catch on a throw, a slant, a pop pass. You've got to take it out the back door or we've got to do a better job on the perimeter blocking at wide receiver. That way when we do get one-on-ones, Jordan has a chance to go. There are a couple things even in the screen game with Tarik; he had a couple that should have been bigger plays if we execute better around him."
The Bears rushing attack that averaged 131.8 yards in the first 10 games of the season has produced just 6 and 62 yards in the last two weeks.
In addition, Trubisky hasn't thrown many passes deep down the field in recent weeks—due in large part to how opposing defenses have lined up.
"Really it's based on what the coverage is doing; how they're playing us that way," Loggains said. "We're getting a lot of soft zones and people have been playing with zone vision, trying to keep the run in front of them, not try to give up explosive runs that way."
In some cases, Trubisky has decided to dump the ball off short rather than throw it long, which is just fine with Loggains. The offensive coordinator wants the rookie quarterback to "keep making good decisions when we do call those plays, that when we dump it down to Jordan and those things that we stay in second-and-six and second-and-five. It's hard to get in third-and-10 or take sacks on those plays."