Rookie first-round draft pick Mitchell Trubisky has been elevated one spot on the depth chart, leap-frogging veteran Mark Sanchez to become the Bears' No. 2 quarterback.
Trubisky, the second overall pick in the draft, will serve as Mike Glennon's backup Sunday when the Bears open the regular season by hosting the Atlanta Falcons at Soldier Field.
"He earned it," coach John Fox told reporters Wednesday before practice. "It's not something we handed him for any particular reason other than he earned it."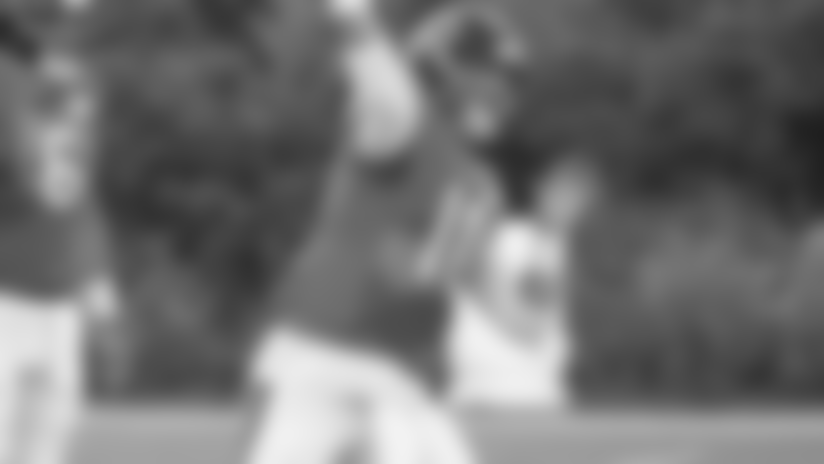 Bears rookie quarterback Mitchell Trubisky throws a pass during practice at Halas Hall.


Trubisky earned the No. 2 spot by exceeding all realistic expectations this summer. In preseason games, the 6-3, 222-pounder completed 36 of 53 passes (67.9 percent) for 364 yards with three touchdowns, no interceptions and a sparkling 106.2 passer rating.
"He surpassed everybody's feeling, all the coaches, the personnel, I know for myself, and I think his teammates," Fox said. "We were asked to evaluate him all the way through and everybody was pretty impressed how fast he picked things up."
Offensive coordinator Dowell Loggains was impressed with how quickly Trubisky transitioned from college football to the NFL—especially after the young quarterback had worked exclusively out of the shotgun at North Carolina.
"No. 1, he did a great job learning how to take snaps," Loggains said. "I know that was a big deal early on—playing in the spread offense in college and not playing under center, not taking one snap under center in college.
"Physically, he has all the tools, so we knew that wouldn't be an issue. It was getting up to speed as fast as possible with the passing game, the protections, the NFL coverages. I think that was the biggest growth he had."
The steady improvement that Trubisky made throughout the summer was also evident to Glennon.
"I think he started taking steps forward at the end of OTAs and I think that carried over into camp," Glennon said. "He just had more command and conviction out there. You could tell. He was more comfortable in the huddle, getting to the line of scrimmage. It takes a little time as a rookie to adjust to that and I thought starting at the end of OTAs is when I started seeing that."
Loggains has been pleasantly surprised with how well Trubisky has read opposing defenses.
"In every preseason game, something came up where he'd get a new look," Loggains said. "When he came in, people played him differently than they were playing the other guys.
"Him being able to change a 'Mike' at the line of scrimmage or alert a run—things of that nature—you just don't anticipate. I don't want to ever put a limit on any player, especially that one, but the things he was able to handle in learning from others and watching Mike and Mark work in practice and now all of a sudden have the awareness to [think], 'Well, they're about to blitz off the edge, I'm going to change the 'Mike,' it's just happened faster than anticipated.
"But he deserves a ton of credit because he works his tail off in virtual reality and studying his playbook and watching his iPad. All those things, he earned the spot, he put himself in position to be successful."
The success Trubisky has experienced to this point is due in large part to intangibles. Asked what has stood out most with the young quarterback, Loggains said: "His poise. The kid never gets rattled. No matter how much you throw at him, no matter how hard you coach him, he's the same guy every day."