The steady progress that Bears rookie quarterback Mitchell Trubisky is making on a weekly basis may be most evident in his performance on third down.
The first-round draft pick has completed 64.4 percent of his passes on third down this season for 568 yards with two touchdowns, no interceptions and a 97.3 passer rating that ranks fifth in the NFL. Among 31 qualifiers, Trubisky is the only quarterback in the league who has yet to throw an interception on third down.
"Everybody knows that third down is the money down, especially for quarterbacks," Trubisky said. "It's usually a known passing situation when you're not in third-and-short yardage. Everyone in the building knows it's a pass.
"So [it depends on] how well you are going to operate and know what the defense is doing. You study third down extra close to get a good sense of what the defense is doing every time, and when all 10 guys do their job, it makes my job a lot easier. That's what allows us to be effective on third down."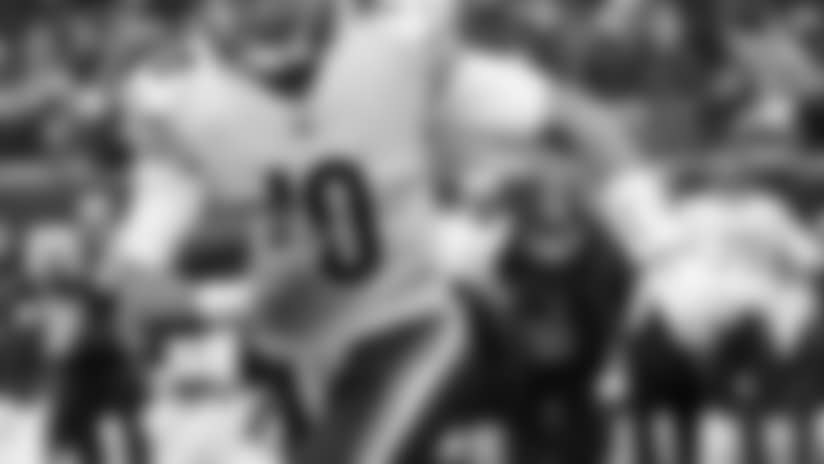 Bears quarterback Mitchell Trubisky tucks the ball and runs against the Bengals.


In last Sunday's 33-7 win over the Bengals in Cincinnati, Trubisky completed three key third-down passes—all to receiver Kendall Wright—to sustain three separate drives that resulted in two touchdowns and a field goal. The two connected on passes of 10 yards on third-and-eight, nine yards on third-and-five and 18 yards on third-and-eight.
"That's where the quarterbacks make their money," offensive coordinator Dowell Loggains said of third down. "That's when they know they're throwing. We know he's going to throw and he's going to go back there and read coverage.
"It all starts with making protection checks. He did a really good job in the game; had a couple alignments he made at the line of scrimmage that were really good. They got us a couple times with some blitzes—two of them, as a matter of fact—that he got the ball out before they got home.
"It's him, it's his preparation and understanding if we're going to be hot, where to go with the football, and it happened twice. It's just a sign of growth, of understanding how all 11 people are affected by pressures and where your hots are and going to those. And it's just another step that he's taking in a road game versus a really good defense and a tough third-down package."
The Bears place a major emphasis on third-down plays during the week in practice.
"When it comes to third down in the game, it just comes down to execution," Trubisky said. "It all starts in the huddle with communication and then communication at the line of scrimmage and getting everything set so we get everyone picked up and then the receivers just making plays, getting open and me putting the ball in the right spot."
When a reporter mentioned as part of a question to Trubisky that he had yet to throw an interception on third down, the rookie retorted with a laugh: "Why would you jinx me? Come on, dude. That's not cool. Don't talk about it."
Asked how to extend his streak without a pick, Trubisky said: "The best way to not do it is to not talk about it. Just working hard on third down, trusting my guys, and being aggressive within the timing of the play, and trusting my reads and continuing to use my accuracy and use good footwork is what's going to allow us to stay good on third down. And taking care of the football is always a No. 1 priority, so we're going to continue to focus on that."