It's impossible to draw any conclusions about what type of NFL career Mitch Trubisky will have after just one pro practice. But what was evident at rookie minicamp Friday were some of the quarterback's traits that convinced the Bears to trade up and select him with the second pick in the draft.
"I don't know that we're quite ready after one practice to define his career," said coach John Fox. "But we put a ton of work into the evaluation and saw a lot of the reasons why we decided to pick him where we did today. He's very accurate, very smart. He's got good football character as far as transferring things from the meeting room to the field, and we saw that today."
Trubisky took the majority of first-team reps during the first of three minicamp practices this weekend at Halas Hall. In the process, he displayed accuracy, athleticism, decisiveness and command of the offense.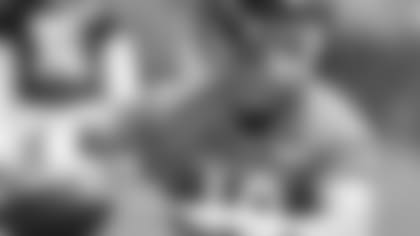 Bears rookie Mitch Trubisky took the majority of first-team reps during the first of three minicamp practices this weekend at Halas Hall.


"He's handling everything well," said offensive coordinator Dowell Loggains. "We've kind of tweaked the schedule a little bit to where we're having two 7-on-7s, so he's getting more reps that way. We gave him a big install and he handled it. We wanted him to feel stressed a little bit and understand how different the game is and to this point right now he's responded well."
With the Bears, Trubisky is learning to take snaps directly from center after operating primarily out of the shotgun at North Carolina.
"I came out here and had a lot of fun," he said. "It's been good to be back here and get to work. Just getting with the new centers, getting that rhythm, getting that timing and chemistry, it's all about getting better every day and working under center."
Trubisky felt that the tempo of practice Friday was similar to what he experienced in college.
"At UNC, we moved at a pretty fast pace," he said. "Obviously all the players here are bigger, faster and stronger, which is good. But fly around and just take it one play at a time, that's all I try to do."
Trubisky told reporters that his greatest challenge so far has been to digest the playbook and "learn as much as I can in a short amount of time."
"I pretty much don't stop studying until I feel comfortable," he said. "And then I go to bed, wake up and do it again. I just keep going over it. I like flash cards. That works for me for formations and stuff like that. It's been going smooth. I love the offense so far. I'm just trying to master it one day at a time."
Like the rest of the rookies, Trubisky is being asked to transfer what he learns in the classroom onto the field in a very short period of time.
"It's all about controlling the huddle one play at a time and knowing my assignment, and knowing my progression and where I've got to go with the ball," Trubisky said. "It's my job to run the offense and make sure everything goes smoothly."
During the pre-draft process, the Bears concluded that Trubisky possesses not only the talent but all the necessary intangibles to become a franchise quarterback and the face of an NFL team.
"He's an extremely humble kid," Loggains said. "He's a hard worker and you feel his passion for football and being around his teammates. The cool thing is when you work people out, you can see them on their campus and in the atmosphere they're comfortable with and you can see his true personality."
"The guy has got leadership ability, even at a young age," Fox said. "He was 'Mr. Football' in the state of Ohio. That's something they don't just hand out to anybody. Look at what he did and how he handled his career at UNC. I think he was just getting started, really. Even if he had stayed in college football he would have just continued to get better and better and we're glad to have him now."
Trubisky made the most of his only season as a starter at North Carolina, setting single-season school records with 447 attempts, 304 completions, 3,748 yards, 30 touchdown passes and 4,056 yards of offense.
"I really feel like I just scratched the surface in college and I'm really just getting started," Trubisky said. "Everything I do I do with a chip on my shoulder, so I'm out here trying to prove myself every day and get better. And when I get my opportunity, try to make the most of it."
It's unclear when that opportunity will come. The plan is to groom Trubisky behind veteran free-agent acquisition Mike Glennon, who signed with the Bears in March after spending his first four NFL seasons with the Buccaneers.
"The expectation for [Trubisky] is to come in and develop as fast as possible," Loggains said. "He gets a great opportunity to sit behind Mike Glennon; the guy's a pro. He gets a chance to learn and grow in the system. Those are the only expectations, that he gets better every day."
"We know Mike's the starter, but competition brings out the best in everyone," Trubisky said. "I'm going to come out here and compete. We know Mike is the starter, so it's my job to support him and make sure everything I do I can help him as well. I'm just here to be a great teammate, continue to get better and make sure the Chicago Bears are winning."