Win or lose, success or failure, Mitch Trubisky was going to remember his first NFL game Thursday night simply because it was the culmination of a lifelong dream.
"It was important for me not to let this moment go by and just realize how far I've come, stepping on the field, soaking it all in at Soldier Field especially," Trubisky said after starring in the Bears' 24-17 preseason-opening loss to the Broncos. "It was a special night.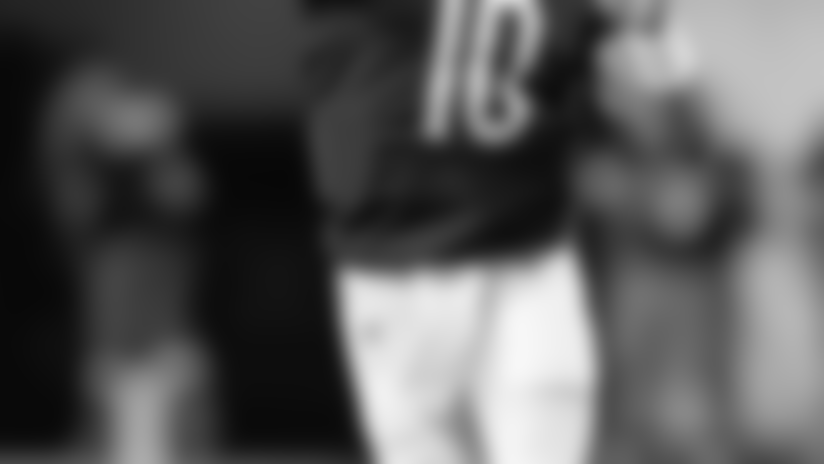 Rookie Mitch Trubisky made several pinpoint throws while on the run in Thursday night's preseason opener.


"Even though it didn't go our way, hopefully it's the first game of a long journey. It's special to be out there for how long I've been working for this. It's like a dream come true."
After a lackluster outing by starter Mike Glennon and a brief appearance by Mark Sanchez, Trubisky entered the game with 1:55 left in the first half. The second pick in the draft immediately ignited the offense and electrified the crowd by completing his first 10 passes and leading the Bears to two touchdowns and a field goal on his first three possessions.
"Just got in a rhythm," Trubisky said. "Play-calling. Guys were getting open. O-line did a great job giving me a lot of time. Just playing within myself in the offense. Just creating a rhythm. You have to give a lot of credit to those 10 other guys; they made my job easier."
Offensive coordinator Dowell Loggains also made Trubisky's job easier by picking and choosing a group of plays that would give the young quarterback the best chance to succeed.
"It helped having a play sheet," Trubisky said. "It's not the extent of a normal game week, but we did prep for this game a little bit. It's a little different from practice, where you don't exactly know the calls every day unless we get the sheet.
"So I had the play sheet. I was able to study a little bit, so I knew all my calls, I knew my plays. I knew what I was comfortable with. I talked it over with Dowell, so we were kind of on the same page. I was able to go out there and play free, which is what I wanted to do, just go out there and play, do what comes natural and really try to get into a rhythm.
"I knew all the play calls. I was comfortable with the plays, and having a play sheet just gave me confidence to go out there and play."
Trubisky completed 18 of 25 passes for 166 yards with one touchdown and a 103.1 passer rating. He helped the Bears produce 19 first downs on five possessions after they had mustered just four first downs on their first six drives with Glennon and Sanchez in the game.
Trubisky excelled while throwing on the run, a skill he has displayed throughout training camp. Some of those plays were designed rollouts, but others came when he escaped pressure in the pocket. The young quarterback showed excellent awareness and elusiveness, scrambling three times for 16, 12 and 10 yards while not getting sacked in the game.
"Who wants to get tackled? Who wants to get sacked? Not me," Trubisky said with a laugh. "No negative plays, right? So yeah, I'm going to take off. I think my linemen appreciate that, too. They don't want the QB to hold the ball back there too long.
"So I'm going to go through my progressions. If it's not there, I'm going to pick a seam and get down and take care of myself as well. I think that's important—just create positive plays. Then the defense has to account for that as well. Hopefully that will open some things up, too."
Trubisky was just as impressive in his post-game press conference as he was on the field in his first NFL game. Asked multiple questions by reporters about a potential quarterback controversy in the wake of his stellar debut, the 22-year-old said all the right things.
"That's not really for me to say," Trubisky said. "I just appreciate the amount of reps I got. That's what I need at this point. The more situations I can go over, the more reps I can get, it'll help me to continue to improve my game and get better and better.
"I just wanted to show what I could do [Thursday night] and luckily I was able to get a lot of reps and get comfortable and run the offense and get a good amount of film that we can go over and improve from."