Less than 24 hours after trading up to select Mitchell Trubisky with the second pick in the draft, the Bears introduced their quarterback of the future Friday at Halas Hall.
"It's awesome to be here," Trubisky said. "I'm very excited to embrace the Chicago Bears fan base and everything they have to offer. This is a dream come true and I couldn't imagine myself in a better spot, so I'm very excited for this opportunity. It's going to be a perfect fit. I'm very happy to be here in Chicago."
A one-year starter and three-year contributor at North Carolina, Trubisky will be groomed behind free-agent acquisition Mike Glennon, who remains the Bears' No. 1 quarterback.
"I haven't talked to Mike yet, but I'm very excited to work with him and the rest of the quarterbacks here," Trubisky said. "Mike is the starting quarterback and I'm very excited to learn from him and the rest of the veterans on the team and I can't wait to help the team win."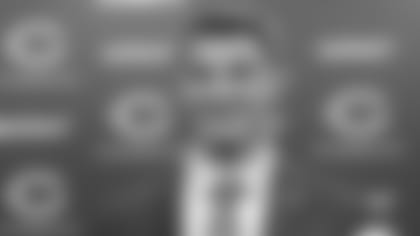 Bears first-round pick Mitchell Trubisky holds up his new jersey right after his introductory press conference Friday afternoon at Halas Hall.


Asked Thursday night about when Trubisky will assume the starting position, general manager Ryan Pace said "there's really no timeline" and "it's just going to have to run its course."
"That's why I'm fired up we've got Mike," Pace said. "Mike's a good quarterback and I'm excited about him. There's no rush on this. I think we've got a really good situation for Mitch to come into and develop the right way."
Trubisky, who displayed poise, confidence and command at his introductory press conference, is on board with the plan to learn behind Glennon. But the 22-year-old is determined to work hard and be ready to play whenever he's called upon.
"My mentality has always been I'm going to prepare like the starter and when I'm given my opportunities just to take full advantage of them," Trubisky said. "That's how I carry myself and that's how I work. At the end of the day, it's all about the team. Whatever they need me to do to win, that's what I'm going to do."
Primarily a backup for two seasons at North Carolina before starting for the first time last year, Trubisky knows that it won't be easy to sit and watch.
"The competitor in you definitely wants to play right away," he said. "There are positives and negatives to playing right away and sitting behind someone. You get to learn from the guy in front of you, learn from their mistakes and also what they do well.
"It's going to be a huge learning process for me to pick up the offense, see what the other guys are doing and really try to pick up as many things as possible from the other quarterbacks to allow myself to be successful when I'm given the opportunity."
Trubisky was very successful when finally given the opportunity to play last season at North Carolina. Starting all 13 games, he set single-season school passing records with 447 attempts, 304 completions, 3,748 yards and 30 touchdowns.
After working primarily out of the shotgun in college, Trubisky will have to transition to taking snaps from center with the Bears.
"I've been working under center since January and it's been a seamless transition," he said. "I feel like working under center has helped me become even more consistent with my footwork. I feel like being athletic is going to help that transition and continue to improve my feet."
Trubisky is the highest Bears draft pick since 1951 when they selected Notre Dame quarterback Bob Williams second overall. The only other quarterback chosen as high in team history is Hall of Famer Sid Luckman, the No. 2 pick in 1939.
Given where he was drafted, Trubisky knows that he will eventually be expected to become the Bears' franchise quarterback and he already understands what that role entails.
"You're the face of the franchise, so everything you do is going to be under a microscope," Trubisky said. "I'm just going to do the right things like I've always done, stay true to myself.
"You've got to be a leader; you've got to be the first one in the door and the last one out. You've got to be the hardest working guy. You've got to be the most knowledgeable and you've got to be competitive. I don't think anyone wants to win more than I do. Hopefully I can bring that to this organization."
Photos of Bears first-round pick Mitchell Trubisky arriving at Halas Hall on Friday.