Bears players are spending three weeks in training camp honing their skills and refining their techniques. But developing trust and acting with respect and humility is just as important to coach Marc Trestman.
"The overriding philosophy is to get to know each other, to develop levels of trust between each other—coaches-and-players, players-and-coaches—and to define our behavior through respect and humility," Trestman said.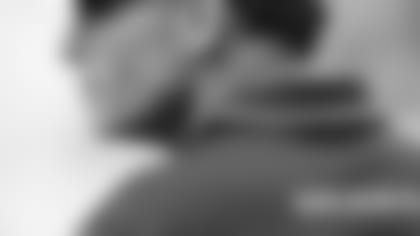 Bears coach Marc Trestman believes in a culture of trust, respect and humility at training camp.
"We're going to respect everybody around us. We're going to treat them in high regard and we're going to understand what humility means, which is that we're part of something bigger than ourselves. It's really that simple."
"If you understand the definition of those three terms and you love football and want to play it and are a baller, we'll find a place for you. We're also in a position where we don't expect everybody to understand that immediately. That's a process. That's a transformational process.
"It doesn't take one week. It doesn't take one month. It may not take a year; it may take more. But that's the day-to-day message that we're sending our coaches and I'm sending to our players, that if we do that we're going to [have] a better chance to win football games."
Opportunity knocks: Listed second on the depth chart at running back behind Kyle Long, Shaun Draughn will get his first chance to impress in game action in Friday night's preseason opener against the Eagles.
"He's been consistent throughout the course of camp," Trestman said. "He's a veteran. He understands the game. He's played in systems similar to ours. I think that's helped him. And he's been very effective in the mental part of his game and learning his assignments.
"He's certainly one of those guys that we're going to look hard at in these games and certainly he's competing in practice, so we'll see how he does as we move through the next few weeks."
Draughn has appeared in 20 games the past three seasons with the Chiefs (2011-12) and Ravens (2013), rushing for 235 yards and two touchdowns on 63 carries. Last season he played in three games, rushing for two yards on four attempts, before getting released by Baltimore.
Touching base: Trestman told reporters Wednesday that he spoke to suspended tight end Martellus Bennett on Tuesday. Bennett was fined and suspended an undetermined length of time for conduct detrimental to the team following a confrontation with rookie Kyle Fuller in Monday's practice.
"It was a very positive conversation," Trestman said. "We just touched base with each other and I think I'll just leave it at that. We did what we said we would do and that was talk yesterday."
Practice report: Right guard Kyle Long missed practice Wednesday with a sore ankle and was replaced by Brian de la Puente. Right tackle Jordan Mills also did not participate due to a sore foot and was replaced by Michael Ola.
Other players who sat out with injuries were cornerback Tim Jennings (quad), safeties Chris Conte (shoulder) and Craig Steltz (groin), nickel back Isaiah Frey (hamstring) and guard/tackle Eben Britton (hamstring). Defensive end Jared Allen was excused for personal reasons.
Safety M.D. Jennings intercepted a David Fales pass that was deflected in the end zone, while Fuller made a nice play to break up a fade to Alshon Jeffery in the right corner of the end zone.