After leaving Halas Hall Sunday without signing a contract, their names and faces likely will remain unfamiliar to Bears fans. But some of the hopefuls who participated in this weekend's rookie minicamp on a tryout basis have interesting stories that should be told.
Safety Reggie Rembert last played football at the Air Force Academy in 2010. He had hoped to sign with an NFL team in 2011 and be put on a reserve/military list for two years while fulfilling his commitment to serve on active duty. While that didn't happen, it hasn't deterred Rembert.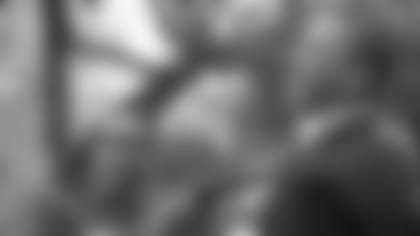 NFL hopeful Reggie Rembert presents President Obama with an Air Force jersey.
Although he works full time as a program manager on a missile defense system at Hanscom Air Force Base near Boston, the 5-8, 185-pounder has continued to chase his NFL dream.

Rembert certainly looked like a pro prospect in 2010 when he was named first-team All-American by the American Football Coaches Association after recording 51 tackles and three interceptions as a senior. The first Air Force player to earn that honor since 1992, Rembert joined current Bears Alshon Jeffery and Gabe Carimi on the All-American squad.

Rembert capped his final season by presenting President Obama with a jersey when the Air Force team was honored at the White House as the recipient of the Commander-in-Chief's Trophy, which is awarded to the winner of the triangular series among teams from the Air Force, Army and Navy.

Punter Jay Karutz was studying to become a chiropractor in his native Australia when he decided to attend an American football kicking camp in Wisconsin. An excellent athlete who had grown up playing Australian rules football and rugby, Karutz earned a full scholarship to Eastern Michigan.

Last season the 6-2, 205-pounder was named first-team All-Mid-American Conference after ranking second in the MAC and 27th nationally with a 42.7-yard gross average.

Karutz's life is considerably different today than it was when he was attending MacQuarie University in Sydney, but the 27-year-old is happy that he came to the United States to become a punter.

"It has changed a lot," Karutz said. "I think being a little bit older, it hasn't been as dramatic a change. I think if I was younger it would have been more of an [adjustment]. For me it's been a change for the good. America has presented itself to me as a land of opportunity."

While it would take Karutz nearly 24 hours to fly home from Chicago, safety Chris Salvi could ride a bike from Halas Hall to where he grew up in 10-15 minutes. The Notre Dame product hails from Lake Forest and was thrilled to work out at rookie minicamp with his hometown team.

"I've been a Bears fan my whole life, so having this experience was something I'll remember forever," said Salvi, who attended Carmel High School in Mundelein.

Salvi not only got a chance to try out with the Bears, but the 5-10, 190-pounder spent the weekend wearing the same jersey number as one of his heroes.

"My favorite player growing up was Mike Brown and fortunately I got No. 30, so that was pretty cool," Salvi said. "He was a 5-10 safety [also]. He wasn't the biggest guy, but he was a big playmaker and it was always fun to watch him."

Even though he wasn't signed to a contract, Salvi cherished the opportunity the Bears gave him.

"It was awesome," he said. "There's a lot of pride in that because I grew up cheering for them. Being able to put on a helmet that a lot of great players have as well is an accomplishment in itself."