New Bears defensive coordinator Mel Tucker can't wait to start working with a unit that boasts a storied history as well as a strong core of veteran Pro Bowlers.
"What's not to like about the Bears?" Tucker said. "It's a great organization, lots of tradition, and my wife is from Chicago. I'm a Midwestern guy from Cleveland, played at Wisconsin. It's a great tradition of football, and on the defensive side of the ball there's some history here as well.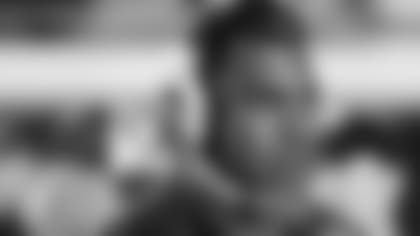 Mel Tucker joins the Bears after spending the last four seasons with the Jaguars.
"Coaching in general is a privilege; to be able to work with these young men and to teach, motivate and develop, and Chicago is a great place to do that."

Tucker joins new Bears coach Marc Trestman's staff after spending the last five seasons as an NFL defensive coordinator with the Browns (2008) and Jaguars (2009-12).

In Chicago, Tucker inherits a defense that scored nine touchdowns, allowed the third fewest points in the NFL and helped the Bears lead the league with 44 takeaways in 2012.

As a result of that success, Tucker will keep the same terminology and won't make many changes to the 4-3 scheme. But that doesn't mean he won't add some of his own wrinkles to the system.

"Every year it's a challenge to try to get better because the margins are very slim in the NFL," Tucker said. "Everyone in the league right now is trying to do the same thing, trying to figure out how you can get an advantage offensively and defensively. We'll do what our players can do. We'll figure out a way to get people stopped and we'll move forward. I'm excited about it."

Tucker will work with a veteran defense that's led by linebacker Lance Briggs, defensive end Julius Peppers, and cornerbacks Charles Tillman and Tim Jennings. At this juncture, it's unclear whether the Bears will re-sign star middle linebacker Brian Urlacher and Pro Bowl defensive tackle Henry Melton, both of whom are due to become unrestricted free agents.

"It's a good thing; veteran leadership, guys that know the system, guys know what it's all about," Tucker said. "They've been through the wars. I think that's a positive definitely."

After playing defensive back at Wisconsin, Tucker began his coaching career as a graduate assistant at Michigan State under Nick Saban in 1997-98. After spending one season coaching at Miami of Ohio in 1999, he rejoined Saban at LSU in 2000.

"He's just a great coach," Tucker said. "I learned a lot of technical football from Nick, learned a lot of recruiting from Nick, and just the way to prepare a football team, prepare as a coach; very detailed, very intense, a sense of urgency every day, and I learned to coach that way."

After spending four seasons at Ohio State from 2001-04, Tucker landed his first NFL job with the Browns, coaching defensive backs from 2005-07 before being promoted to defensive coordinator in 2008.

During Tucker's four years in Cleveland, the Browns ranked fifth in the NFL with 73 interceptions and seventh in pass defense. In 2008, Cleveland tied for third in the league with 31 takeaways and second with 23 interceptions.

As he begins his new job with the Bears, Tucker will be working with a defense that thrived under head coach Lovie Smith and coordinator Rod Marinelli. While many defensive players were upset that Smith was fired, Tucker isn't worried about winning them over on Day 1.

"It's going to be a daily process," Tucker said. "It's about trust and respect. That's earned on a daily basis. I'm different. I'm not going to try to be someone that I'm not. But I think as guys get to know our staff, I think they'll like what they see."