The following is the sixth of 10 stories featuring Bears coordinators and position coaches.
After serving as defensive coordinator with the Browns (2008) and Jaguars (2009-12), Mel Tucker is excited about assuming the same position on Marc Trestman's staff with the Bears.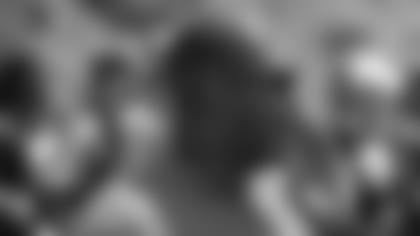 Defensive coordinator Mel Tucker is excited about assuming the same position on Marc Trestman's staff with the Bears.
"This is a very talented group with a healthy mixture of youth and experience," Tucker said.
After playing defensive back at Wisconsin, Tucker began his coaching career as a graduate assistant at Michigan State under coach Nick Saban in 1997-98. After coaching at Miami of Ohio in 1999, he rejoined Saban at Louisiana State in 2000.
Saban remains the coach who has had the greatest impact on Tucker's career.
"He gave me my start in the profession," Tucker said. "He laid a foundation for me defensively and with recruiting, organization and coaching lifestyle. Three of my first four years were with Nick. He spent a lot of individual extra time with me over those years."
Another coach had a positive influence on Tucker long before he met Saban.
"My dad was my first coach," Tucker said. "He was my little league baseball coach. All of the kids always had fun playing for him while learning the game. He was firm when he needed to be, but was always very positive. I think that really left a mark on me."
Tucker spent four seasons as an assistant at Ohio State, working with defensive backs from 2001-03 before serving as co-defensive coordinator in 2004. The coaching accomplishment he remains most proud of was helping the Buckeyes win the 2002 national championship.
Under Tucker's tutelage, Ohio State safeties Michael Doss and Will Allen were named first-team All-Americans, and cornerback Chris Gamble was a second-team selection. In 2002, Doss earned Big Ten Defensive Player of the Year and Fiesta Bowl MVP honors.
Tucker then landed his first NFL job with the Browns, coaching defensive backs from 2005-07 before being promoted to defensive coordinator in 2008.
During Tucker's four seasons in Cleveland, the Browns ranked fifth in the NFL with 73 interceptions and seventh in pass defense. In 2008, Cleveland tied for third in the league with 31 takeaways and second in the league with 23 interceptions.
Tucker served as Jacksonville's interim head coach for the final five games in 2011. As defensive coordinator, he helped the Jaguars improve from 28th the previous year to sixth in total yards, despite not being able to walk without assistance for most of the campaign.
"I required major surgery on my left leg," Tucker said. "It happened very early in the season. I had to coordinate the defense through that time. I spent many weeks on crutches and unable to walk. All of the coaches and players really stepped up to help me through that time."