As the Bears prepare to host the Vikings Sunday, defensive coordinator Mel Tucker hopes that middle linebacker D.J. Williams can build on his impressive performance in the season opener.
After missing most of training camp and the entire preseason with a calf injury, Williams played the entire game against the Bengals, recording three tackles in the Bears' 24-21 victory.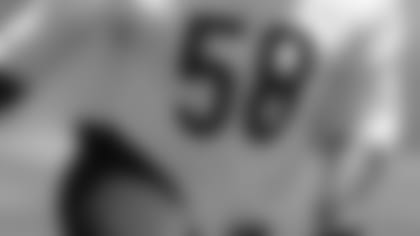 D.J. Williams spent his first nine NFL seasons with the Denver Broncos.
"D.J. was solid in the game," Tucker said. "He held up very good. He's a very instinctive player, and he's been there, he's got great experience in games. He moved around and made some plays for us, and I felt good about him in the game, I really did."
In the days leading up to the game, coach Marc Trestman had said that Williams and rookie Jon Bostic both could see reps at middle linebacker. But the 11-year veteran took all the snaps.
"I think [Williams] is going to just get better," Trestman said. "He ran well for his first game back. His conditioning, quite frankly, was better than we thought. He played hard, he played fast."
Williams signed with the Bears in March after spending his first nine seasons with the Broncos after being selected by Denver with the 17th pick in the first round of the 2004 draft out. He appeared in 127 games with 115 starts, recording 816 tackles, 20.5 sacks, two interceptions, 13 forced fumbles and seven fumble recoveries. Williams led the Broncos in tackles in five of his nine seasons.
No worries: The stat sheet distributed after the Bears' win over the Bengals showed that defensive end Julius Peppers didn't record a tackle or a sack in the game. But his coaches aren't panicking.
"Here's a guy who's worked extremely hard throughout the offseason and in training camp and I would think that he's going to start better as we move forward," Trestman said. "I know Julius didn't play as well as he would want to play. But I think he still impacted the game."
Heading into Sunday's game against the Vikings, Tucker isn't worried about Peppers, who recorded two sacks in the second game last season after getting shut out in the opener.
"He's always pretty focused, and I have complete confidence in him that he's going to come out and give us his best effort," Tucker said. "I'm looking forward to this challenge this week."
Looking for improvement: The Bears are also confident that their other Pro Bowl defensive lineman, tackle Henry Melton, will contribute more against the Vikings than he did in the opener.
After missing a month with a concussion he suffered in the preseason opener against the Panthers, Melton was credited with one tackle in the Bears' Week 1 win over the Bengals.
"He came out of the game good, so you feel good about that," Tucker said. "He missed a lot of time, but he was able to get a good week of practice in and was able to answer the bell and go in there and give us some plays. That's all you can ask, and then just get better for the next one."
Playing takeaway: In the opener, Tucker was most impressed with the three turnovers the defense generated. Charles Tillman had two interceptions, while Tim Jennings forced and recovered a fumble. The Bears offense scored two of its three touchdowns following the turnovers.
"We were plus-two [in turnover margin] and teams in the NFL that were plus-two were 7-0," Tucker said. "That's the main thing. We stopped the run, too. I think they were a 3.0 a carry.
"But that game is behind us now. We're focusing on the next one. We need improvements really on all fronts, and each and every day, win or lose, that's what we have to do. We have to keep getting better and that's what these guys are working on in practice."