Adrian Wilson was voted to five Pro Bowls in 12 seasons with the Arizona Cardinals. But after signing with the Bears, he didn't bring his résumé to training camp and expect to start.
The veteran safety worked with the third-team defense for most of the first week of practice before lining up with the No. 1 unit for the first time last Friday. Wilson worked with the starters again Monday.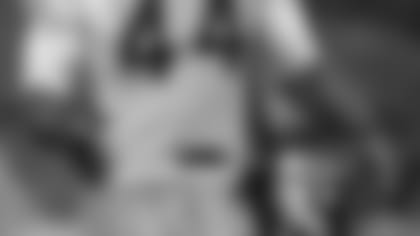 Adrian Wilson
"I like Adrian," said defensive coordinator Mel Tucker. "He came in, worked to learn the system and the terminology. He's a real pro, and he's very, very serious about his job. He wants to make sure he knows exactly what to do, and I'm looking forward to seeing his progress."
The competition at both safety positions remains wide open, which means that Wilson and the players he's competing with likely will continue to rotate as starters and reserves.
"We're moving guys around to make sure everyone has a fair opportunity, and there's nothing set in stone right now," Tucker said. "We still have a month to go, so we'll continue to evaluate the players and watch the tape and make the corrections, and at the end of the day it'll all shake out."
Long story: Kyle Long took another step in his recovery from a viral infection that forced him to miss the first week of training camp. The Pro Bowl right guard participated in team drills Monday after being limited to individual work in his return to practice Saturday night.
Long said that he's focusing on "just being able to get my technique and my feet back under me. I don't want to go too fast and speed into it. There's definitely a lot of rust."
Sights seen: In Monday's practice, receiver Alshon Jeffery soared high over Kelvin Hayden to make a spectacular catch deep down the right sideline. … Nickel back Isaiah Frey intercepted a pass over the middle. … Cornerback Tim Jennings (quad) and offensive lineman Eben Britton (hamstring) sat out with injuries, while defensive end Jared Allen and running back Shaun Draughn were excused for personal reasons.
Bell cow back: Draughn is listed ahead of Michael Ford, Ka'Deem Carey and Senorise Perry as the Bears' No. 2 running back. But regardless of who wins the backup job, it appears that Pro Bowler Kyle Long will remain the team's bell cow back.
"He's a three-down back," Trestman said. "He's a multi-purpose back. There are times in a game where we go into the game and we say that we're going to give Matt a blow at this time and that time. And then the situation comes up and you look around and who would you rather have out there than Matt Forte? And so he stays in.
"He's as highly conditioned of an athlete as you could ever be around. His training level is remarkable, certainly at an elite level. We hope to have an opportunity to give him a breather throughout the game and get him through the season healthy. But he is a three-down back and we'll see where that takes us."
Since entering the NFL in 2008, Forte ranks third in rushing yards with 6,666 behind Adrian Peterson (8,774) and Chris Johnson (7,965) and third in receiving yards with 2,919 behind Darren Sproles (3,340) and Ray Rice (3,034).
Full circle: Veteran offensive lineman Dennis Roland signed with the Bears last Thursday, but he was already familiar with Olivet Nazarene University before arriving at training camp. Roland's father, Dennis Sr., was head coach of the school's football team from 1986-90.
"It's awesome to be back here and actually come out here and practice on the field I grew up on as a kid watching his team practice," said Roland, who was three years old when his dad was hired by Olivet Nazarene.
Roland's father passed away on Jan. 1, 2008 due to cancer at the age of 51. Six years later, he continues to inspire his son.
"Just the way he went about life and work and how he carried himself, I just want to try to live up to the standard he set coaching and as a family man and father," Roland said. "I hope I'm doing the same thing with my family."
Roland joins the Bears after appearing in 71 games with 30 starts in eight NFL seasons with the Buccaneers (2006-07) and Bengals (2008-13).