Young Bears linebackers Jon Bostic and Khaseem Greene made a positive first impression on defensive coordinator Mel Tucker over the weekend at the team's rookie minicamp.
"These guys are smart and they're athletic, [have a] good work ethic and they just want to earn the respect of their teammates and coaches right now," Tucker said. "They're good in the classroom. They've been good on the field. We'll just take it one day at a time with them, but I like them so far."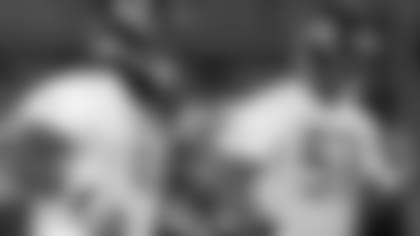 Khaseem Greene (left) and Jon Bostic will bolster the Bears' linebacking corps.
The Bears spent two of their first three picks in the draft on linebackers, choosing Bostic in the second round (50th overall) and Greene in the fourth (117th). Since 1991, the only other linebacker they've selected with one of their first three picks in a draft was Brian Urlacher in 2000.

Bostic started at middle linebacker each of the last three seasons at Florida, recording 219 tackles, 19.5 tackles-for-loss, eight sacks and five interceptions in 39 games.

The Bears ranked Bostic as the best athlete among middle linebackers in the draft and one of the fastest linebackers in this year's class. He showed his athleticism and speed during rookie minicamp, turning and fluidly sprinting down the seam in pass coverage. Bostic is also an intelligent player who called defensive signals and aligned his teammates at Florida.

"He's a smart guy," Tucker said. "He's a take-control guy. He's been that. He's very comfortable making the calls and controlling the huddle, things like that. So those are all positives.

"His height, weight and speed are there. He's instinctive. He has command of the defense. He's vocal. He can run, change direction, has athletic ability and he's physical. He was physical on tape. Those are all things you look for in a linebacker."

As a rookie, Bostic could back up all three linebacker positions, though he will be given an opportunity to earn a starting job. The Bears project the Florida native as a future starter at one of the three linebacker positions. This season he could make his biggest impact on special teams.

"He's smart, he's tough and he's good in open spaces, which should translate well to what we do," said special teams coordinator Joe DeCamillis.

Asked if a rookie could start at middle linebacker in his defensive system, Tucker said: "It's a case-by-case deal. You just have to wait and see. Our job is to get the best players on the field. We'll see how it shakes out. You never want to paint a guy into a box, so it's an open competition across the board in our system. We're not going to predetermine what a guy can or can't do early."

Greene joins the Bears after setting an all-time NCAA record with 15 forced fumbles over four seasons at Rutgers. After starting all 13 games at safety in 2010, he was moved to weakside linebacker and was named Big East defensive player of the year each of the past two seasons.

Greene said that his experience at safety helped him "become a better coverage linebacker and also gave me speed so that my reaction time was a little bit quicker. I just have to get used to a little more playing with my pad level down, and I'm working on that."

Last year Greene registered 136 tackles, 12 tackles-for-loss, six sacks, five pass breakups, two interceptions, six forced fumbles and two touchdowns on fumble recoveries.

"The guy can run. He can hit. He's very instinctive," Tucker said. "Both guys can play multiple positions. That's what we look for in our linebackers here; guys that can do more than one thing."

After participating in rookie minicamp, Bostic and Greene joined their veteran teammates for the first time Monday as the Bears conducted the first of 10 OTA workouts.

Asked over the weekend if he anticipated Pro Bowl linebacker Lance Briggs taking the two young players under his wing, Tucker said: "That's going to be up to Lance, but he's a pro. He's a great guy. He knows the ropes. He knows the defense inside and out. I'm sure they're going to be looking to him for leadership and I'm sure he'll provide that."