Defensive coordinator Mel Tucker told reporters Monday that he was very pleased with the four takeaways the Bears generated in last Friday night's preseason-opening win over the Eagles.
The defense intercepted Nick Foles passes on two of Philadelphia's first three possessions. Foles, who threw for 27 touchdowns and two picks last season, matched his interception total in the first quarter at Soldier Field when he was picked off by Ryan Mundy and Sherrick McManis.
The Bears produced two more takeaways in the second half when Khaseem Greene recovered a fumble by running back Matthew Tucker and Al Louis-Jean intercepted a Matt Barkley pass.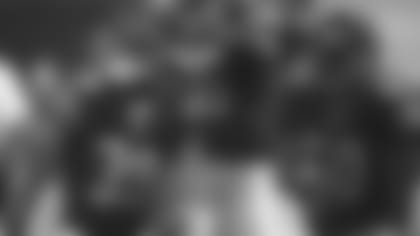 Al Louis-Jean (39) celebrates with teammates after intercepting a pass Friday against the Eagles.
"It's always a point of emphasis each and every day, the takeaway," Tucker said. "That was very, very positive and our guys get excited about that. We know that being on the plus-side of the turnover margin will help you win football games. They talk about it and we were able to go out there and execute. It's a matter of rush and cover working together to affect the quarterback to create those plays. Four takeaways, obviously that's a real positive."
The Bears led the NFL in takeaways with 44 in 2012, 14 last preseason and 11 during the first three weeks of the 2013 regular season. But they generated only 17 more during their final 13 games to finish with 28, tied for 13th in the league.
Over the past five seasons the Bears' record is 31-6 when winning the turnover battle, 7-19 when losing it and 6-11 when it's been equal. Last season they were 5-0 with a positive ratio and 3-8 when it was negative or equal.
Under pressure: Tucker also was pleased with the Bears' pass rush. Although they recorded only one sack, they pressured Foles early. His first interception, on an errant pass over the middle, came when he was being rushed by defensive ends Lamarr Houston and Willie Young.
"It was encouraging because the guys have worked very hard in practice with the pass rush and the pass rush lanes in making sure that we're coordinated and that we get second and third efforts in the rush and that we affect the quarterback," Tucker said. "We've worked really hard to make sure that we got sufficient-to-good coverage behind us so the rush and coverage can work together. I think we saw an element of that come together in the first game."
Picked off: In his second practice since recovering from offseason shoulder surgery, safety Chris Conte intercepted an ill-advised Jordan Palmer pass in the end zone Monday.
"That's a good thing," said coach Marc Trestman. "He was excited to be out [on the field]. He's waited a long time to practice. He's had a lot on his mind. It's nice that he can just go out and play. It was a good start for him."
It's not yet known whether Conte will suit up Thursday night against the Jaguars.
"I think it's too soon to talk about him playing," Trestman said. "It's a trainer's decision when he's ready to go and I don't think we're in that place yet. We'll see."
Sights seen: Rain early Monday forced the Bears to practice at Olivet Nazarene University's Ward Stadium for the first time this year. The stadium sports a new artificial surface. … Defensive end Jared Allen enjoyed seeing Young intercept a Palmer pass at the line of scrimmage. "That's how you turn being blocked into a plus right there, so good job by Willie," Allen said with a laugh. … With Jordan Mills (foot) still sidelined, Michael Ola again worked with the No. 1 offense at right tackle. … Building off his impressive performance against the Eagles, tight end Zach Miller made several nice catches in practice Monday.