Bears first-round draft pick Kyle Fuller didn't wait very long to make an impact in his first NFL training camp practice Friday in Bourbonnais.
The cornerback from Virginia Tech made a diving interception during the team's first 11-on-11 drill and later picked off a second pass and raced up the left sideline.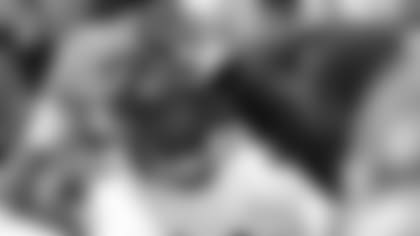 Kyle Fuller returns an interception during the team's first 11-on11 drill at practice.
"It was a good start for Kyle," said coach Marc Trestman. "That was a terrific play he made in the first series of the day. The second one, he got a wrong route and he was in the right place and made the play, and that's a good thing. He's around the football. It was a good start for him."
Fuller's first interception came on a Jordan Palmer pass that was intended for Terrence Toliver.
"Just playing my technique and fundamentals, and when the ball's in the air just trying to make a play," Fuller said. "Definitely a good start, but I've still got a lot of work to do."
Fuller's second pick came on an errant Jimmy Clausen throw. Asked if the two takeaways will boast his confidence, the rookie cornerback said: "You always can take that, but at the same time you have to make sure that you continue to get better. You can never get complacent."
Just like during offseason practices, Fuller lined up as a starting cornerback in passing situations Friday opposite Charles Tillman with Tim Jennings moving to nickel back.
"Those guys are two great guys that I can go to if I have any questions," Fuller said. "Just being a pro in all aspects, so that definitely helps me."
Catch this: First-year receiver Chris Williams provided the offensive highlight Friday by hauling in a long pass from Palmer down the right sideline, beating Fuller by a considerable margin.
The Bears signed Williams off the Saints' practice squad last Dec. 26 and are enticed by his speed and potential as a return specialist. The New Mexico product played three seasons in the CFL with the Hamilton Tiger Cats, setting a league record with six return touchdowns in 2012.
"Chris has done a good job as a receiver in practice," Trestman said. "He catches the ball, he's got strong hands, and he finds ways to get open. He's made the most of his opportunities when the ball's been thrown to him. We'll have to see how that progresses. He's in a competition not just to be a returner here but to be a receiver here as well."
Music men: The Bears played loud music during individual periods early in practice. Songs included "Welcome to the Jungle" by Guns N' Roses and "Living on a Prayer" by Bon Jovi.
"I've talked a lot about this with guys around the league," Trestman said. "I just wanted to bring something to practice, just a little more energy. Talking to the players about it, that we would do some work in individual when we can coach them close up and still get our job done but have a little fun as well with just getting them going.
"And it translates to games because there's music before games. So because they're working with music before games, why shouldn't we have music during the same kind of warm-up period, that individual period that we have in practice? That was really the No. 1 reason to do it, to make the practice as game-like as it could be."
Sights seen: Receiver Alshon Jeffery picked up Friday where he left off last season, making a handful of nifty leaping grabs. Fellow receivers Brandon Marshall and Marquess Wilson also looked sharp catching passes in 7-on-7 and 11-on-11 drills. … Cornerback Sherrick McManis intercepted a pass that deflected off receiver Josh Morgan. … Tight end Martellus Bennett dropped a pass and jumped before the snap on one series of drills. … Right guard Kyle Long (viral infection) and safeties Craig Steltz (groin) and Chris Conte (shoulder) did not practice. Eben Britton replaced Long with the No. 1 offense. … Jarrett Payton, the son of Bears legend Walter Payton, attended practice on what would have been his father's 60th birthday. The Hall of Fame running back passed away Aug. 1, 1999 at the age of 45 due to liver disease.