The Bears will play back-to-back prime-time games against division leaders when they host the Houston Texans Nov. 11 and visit the San Francisco 49ers Nov. 19.
But middle linebacker Brian Urlacher insisted during a radio interview on ESPN 1000 Tuesday that the 6-1 Bears won't look past Sunday's contest against the 3-5 Titans in Tennessee.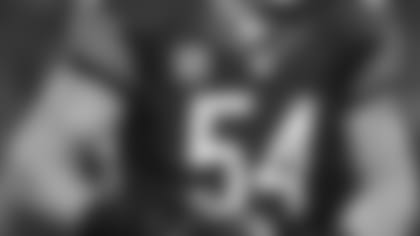 Brian Urlacher and the Bears sit atop the NFC North with a 6-1 record.
"We'll be ready to play for this one this weekend, no doubt about that," Urlacher said on "The Waddle and Silvy Show." "They're all big games to us. You have to rack [wins] up now, as many as you can, so later in the season you have them stored away. Our coaches won't let us relax."

The Bears were outplayed by the struggling Panthers for three and a half quarters Sunday before rallying from a 12-point deficit to win 23-22 on Robbie Gould's 41-yard field goal as time expired.

"Tennessee's a good football team," Urlacher said. "They can run the football really well. [Quarterback] Matt Hasselbeck knows our defense from Seattle. He played well against us up there, so we'll have our hands full. They have good personnel just like the Panthers did. It's another tough game for us, and it's on the road."

The defense's No. 1 priority—as it always is—will be to stop Tennessee's running game, which features Chris Johnson, who rushed for 141 yards on 25 carries Sunday in a loss to the Texans. The Bears rank No. 1 in the NFL in run defense, allowing just 77.9 yards per game.

"That's our goal every week is to try to stop the run and get them in some second-and-long and third-and-long [situations] where we have a chance to let our pass rush go against them," Urlacher said. "He's a good running back. They have good receivers as well [in Kenny Britt and Nate Washington] and a big tight end [in Jared Cook] that's good, so it'll be a tough one for us."

Urlacher also said that he feels the Bears have the NFL's best defense. The unit ranks seventh in total yards, but remains No. 1 for the sixth straight week in the Aikman Ratings, which combine seven key statistical categories.

"The NFL goes by yards for rankings on defense. I don't think that really means much," Urlacher said. "Points, takeaways, sacks, red zone; those things mean a lot to us. You could be up 48-0 and give yards passing in the fourth quarter because a team's trying to come back. That doesn't mean much to me, but the stats we want to be good in we're really good at."

Roster moves: The Bears on Tuesday made a change on their practice squad, signing receiver Raymond Radway and terminating the contract of rookie receiver Joe Anderson.

Radway entered the NFL with the Dallas Cowboys in 2011 as an undrafted free agent from Abilene Christian, the same school that produced Bears receiver Johnny Knox. The 6-3, 204-pounder spent his entire rookie year on injured reserve and two weeks on the Cowboys' practice squad this season.