While general manager Phil Emery doesn't publicly discuss contract negotiations, he acknowledged Wednesday that the Bears are still trying to re-sign middle linebacker Brian Urlacher.
"That is an ongoing process, and we'll keep working through that process," Emery said. "As I said at the Combine [Feb. 21], once we work through that, everybody will know that decision."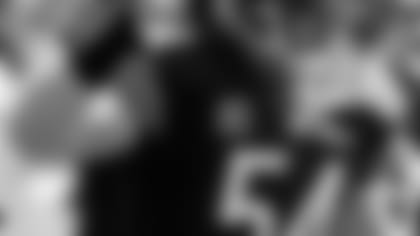 Brian Urlacher was selected by the Bears with the ninth pick in the 2000 NFL Draft.
Urlacher has been voted to eight Pro Bowls in 13 seasons. He was named NFL defensive player of the year in 2005 and helped the Bears reach the Super Bowl in 2006 for the first time in 21 years.

But Urlacher got off to a slow start in 2012 after sitting out the entire offseason program and preseason with a knee injury. He improved throughout the season and led the Bears in tackles before sustaining a hamstring injury Dec. 2 that forced him to miss the final four games.

Emery will not comment on the negotiations because he wants the process to remain private.

"I think that is where it is done best and I think that is where both parties can talk freely to one another and come to the best conclusion for the player and the team," Emery said.

The general manager did concede that the Bears are "up against the cap" after signing left tackle Jermon Bushrod and tight end Martellus Bennett on the first day of free agency.

"We are going to have to be very slow and methodical and make sure that every decision that we make is going to be in the best interest of our team moving forward in terms of putting the best players on the field to win," Emery said. "It is going to have to be slow because every dollar is going to count against the cap and we are tight against the cap.

"It doesn't shut us down. It just means that every signing is going to be scrutinized in terms of current cap implications and future. There aren't a lot of dollars. There isn't a ton of wiggle room. When we talk to free agents, definitely that is always in the forefront for us."

While Emery re-signed defensive tackle Nate Collins to a one-year contract Thursday, other Bears who remain on the open market include Urlacher, defensive end Israel Idonije, linebacker Nick Roach, guard Lance Louis, nickel back Kelvin Hayden and backup quarterback Jason Campbell.

"There are players that we've got to either sign back or add to the team if it isn't our current players," Emery said. "Again, that will be a slow methodical process.

"We looked last year at how our signings fell. We had several the first week and then we had signings all the way up to the end of April, so I would anticipate that we're going to have a spread of signings and it will be in small bits more than batches."