Brian Urlacher and Sherrick McManis have won NFC player of the week awards on defense and special teams, respectively, for their performances in last Sunday's 51-20 rout of the Titans.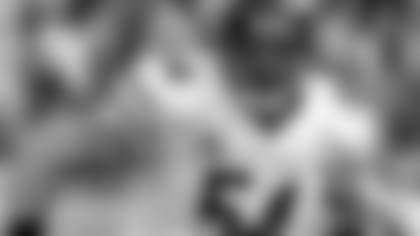 Brian Urlacher has won six NFC defensive player of the week awards in his career.

"It's saying a lot about your program when you get two of the weekly NFC awards," said coach Lovie Smth.

Urlacher returned an interception 46 yards for a touchdown and also forced one fumble and recovered another. It was only the second time in his 13-year career that he recorded an interception, forced fumble and fumble recovery in a game. He previously accomplished the feat on Oct. 7, 2001 in a 31-3 win over the Falcons in Atlanta.

"Brian Urlacher, we've been talking about him playing better and better each week," Smith said. "He had a heck of a game this past week, so it's good to see him acknowledged that way."

Urlacher has now scored five career touchdowns; two on interceptions, two on fumbles and one on a fake field goal. His four defensive TDs are tied with Bennie McRae and Roosevelt Taylor for fourth in Bears history behind Charles Tillman (8), Mike Brown (7) and Lance Briggs (6).

Urlacher now has 22 career interceptions, tied with Hall of Famer Dick Butkus for second most in franchise history among linebackers behind Doug Buffone (24).

Urlacher's interception return TD was the seventh of the season for the Bears, extending their single-season team record and tied for third most in NFL history with the 1984 Seahawks and 1999 Rams, trailing the 1961 Chargers (9) and 1998 Seahawks (8).

The eight-time Pro Bowler has now won six defensive player of the week awards, tied with Hall of Famer Richard Dent for the most in franchise history.

McManis was honored after blocking a punt that fellow Northwestern alum Corey Wootton returned five yards for a touchdown. It was the first time the Bears returned a blocked punt for a TD since Oct. 19, 2008 when Garrett Wolfe raced 17 yards with a punt that Craig Steltz blocked in a 48-41 win over the Minnesota Vikings at Soldier Field.

McManis also recorded two special-teams tackles.

"Sherrick had a complete game," Wootton said. "He did a great job locking down the gunner and all that. He gets credit for the blocked punt, but a lot of people didn't see the work he did against their gunners and as a gunner. He did a great job all day."

Urlacher and McManis are the first teammates to win player of the week awards the same week since 2008 when the Buccaneers' Derrick Brooks (defense) and Matt Bryant (special teams) were honored.