When Brian Urlacher first joined the Bears in 2000, he never dreamed he'd have an illustrious 13-year career that likely will culminate in his induction in the Pro Football Hall of Fame. Brian Urlacher Retires
"Back then I was just happy to be on the team and happy to be in Chicago, just trying to find my way on the field somehow," Urlacher told ChicagoBears.com. "Obviously it worked out OK, but I never imagined it would last this long or turn out the way it did."
Brian Urlacher lifts the George Halas Trophy after the Bears beat the Saints to advance to Super Bowl XLI. The ninth overall pick in the 2000 draft, Urlacher retired from the NFL Wednesday. But not before he chiseled out the fourth spot on the Bears' Mount Rushmore of legendary middle linebackers, joining Hall of Famers Bill George, Dick Butkus and Mike Singletary.
Fueled by an extremely rare combination of size and speed, Urlacher was voted to eight Pro Bowls and named NFL Rookie of the Year in 2000 and NFL Defensive Player of the Year in 2005. He was a four-time All-Pro who helped the Bears reach the Super Bowl in 2006.
Reflecting on his great career, Urlacher will never forget hoisting the NFC championship trophy—which is named for Bears founder George Halas—over his head following the team's 39-14 win over the New Orleans Saints Jan. 21, 2007 at Soldier Field.
"The NFC Championship Game the year we went to the Super Bowl was one of my favorite memories," Urlacher said. "We were on the podium with the trophy and the snow was coming down. Mrs. McCaskey was up there. Coach [Lovie] Smith was up there, Rex [Grossman] and me."
Urlacher started 180 of 182 games played with the Bears, recording a franchise-record 1,779 tackles, 41.5 sacks, 22 interceptions, 16 fumble recoveries and 11 forced fumbles. The only players who've started more games for the franchise are Hall of Fame running back Walter Payton (184) and center Olin Kreutz (183).
Maintaining good relationships with his teammates and coaches was always very important to Urlacher.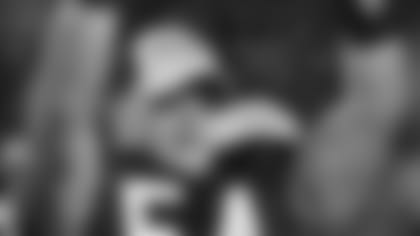 Brian Urlacher lifts the George Halas Trophy after the Bears beat the Saints to advance to Super Bowl XLI.
"As long as they respected me and thought I did a good job as a teammate and a player and did the right things on the field, that's all I could ask for," Urlacher said.
"I tried to do whatever I could to help my teammates if they needed something—anything—along the way. I always tried to be there for them. I also wanted to be coachable, and I never had an issue with a coach, not one time. I always got along with my coaches."
Urlacher intends to begin his retirement by spending time with his family as well as fishing, golfing and traveling. He had contemplated retirement since January and was ready to make the announcement a month ago, but decided to wait just in case he changed his mind.
That never happened, which explains why Urlacher sounded happy and relieved during a telephone interview Wednesday with ChicagoBears.com.
"Relieved is the word," Urlacher said. "I'm just glad that it's behind me. I felt this way for a while, but I'd been holding off, just talking to people. But my mind was made up a while back. I'm relieved it's over and I'm ready to get on with the next stage of my life, whatever that may be."