Lovie Smith acknowledged that Brian Urlacher won't play Sunday in Minnesota due to a hamstring injury, but declined to provide a timetable for the return of the star middle linebacker.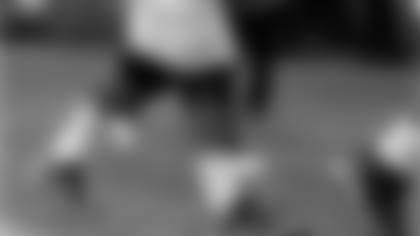 Brian Urlacher heads to the locker room after injuring his hamstring during the Bears' game against the Seahawks.
"All we can tell you is he's out this week," the Bears coach told reporters Wednesday after practice. "Exactly when he's coming back, I don't know. He's coming back some time."
Urlacher was injured on the next-to-last play of last Sunday's 23-17 overtime loss to the Seahawks at Soldier Field while chasing Seattle rookie quarterback Russell Wilson.
"All you can really do initially is just ice it down and then start the rehab work to come back," Smith said. "There's a lot that goes into it. I used to really try to talk about those hamstrings, but I don't know enough about them now. I just know that they hurt a lot and he can't go today and hopefully we'll have him back some time."
After Urlacher exited against the Seahawks, Nick Roach moved from strongside linebacker into the middle and veteran Geno Hayes entered the game in Roach's spot. The Bears are expected to employ the same alignment Sunday when they visit the Vikings.
"It helps because Geno Hayes has played a lot of football and was a starter last year for the Bucs," Smith said. "And Nick Roach has played a lot of positions for us. We have Lance Briggs too. So we feel like we'll be OK. [But] we can't replace Brian. It's hard to do that.
"He's a great player. He's one of the leaders. He makes all of the calls. Him being in the huddle helps. So we're going to miss him. I can't belittle that at all. We're missing a great player. You just have to have a Plan B, and Plan B for us is pretty good if you do lose a player like that."
The Bears are 7-15 in games Urlacher has missed during his illustrious 13-year career. He played in all 16 games in 10 of his first 12 seasons. The last time Urlacher missed a start was in 2009 when he sat out the final 15 games after suffering a dislocated wrist in a Week 1 loss in Green Bay.
Roach made three straight starts at middle linebacker in Urlacher's absence before the Bears opted to install Hunter Hillenmeyer at the position and move Roach back to the strongside spot.
While agreeing with his head coach that a player of Urlacher's caliber cannot be replaced, Hayes has total confidence in Roach.
"Nick is going to be a great guy," Hayes said. "He can step into that role and make those plays that we need to make at middle linebacker, so we're not really worried about that."
Since being selected by the Bears with the ninth overall pick in the 2000 NFL Draft, Urlacher has been voted to eight Pro Bowls. He was named NFL defensive player of the year in 2005 and is the franchise's all-time leader with 1,410 tackles.
Urlacher tops the Bears with 88 tackles this season and has also returned an interception for a touchdown, forced three fumbles and recovered two fumbles.
"The sooner we get him back the better," said quarterback Jay Cutler. "Guys are going to have to step up as other guys have as injuries have happened and we're just going to have to find a way."
"Brian is definitely the heart of our team," added receiver Brandon Marshall. "I recognized that right away when I got traded here. But we have a lot of leaders in the locker room. There are a lot of guys that will pick it up and make plays while he's out."