Bears star middle linebacker Brian Urlacher said during a radio interview Tuesday that his left knee feels as good as it did entering training camp and he intends to play the whole season.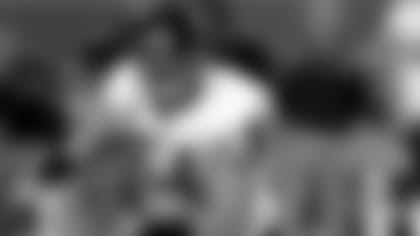 Brian Urlacher has not missed a regular season game in the past two years.
Urlacher practiced Monday for the first time in more than a month and remains on track to start Sunday's season opener against the Indianapolis Colts at Soldier Field.
The eight-time Pro Bowler sat out the entire offseason program while recovering from a knee injury he suffered in last year's season finale in Minnesota. After participating in the first four training camp practices, Urlacher was sidelined July 31 and had arthroscopic surgery Aug. 14.
"I felt great going into camp and then I think I aggravated it a little bit on one of those days," Urlacher said on "The Waddle and Silvy Show" on ESPN 1000. "Now I feel like I did going into training camp. That's why I'm so optimistic.
"I feel the same that I did back then and hopefully I can stay that way. The only time I should get a whole lot of work in is on game days. So I should be able to stay out there the whole season."
Urlacher said that when he woke up Tuesday morning, his knee was pain-free. He intends to keep it that way by scaling back his work during the week.
"We're going to monitor my reps in practice," Urlacher said. "I know we can't do it in the game. There are a lot of teams that have guys 10, 11 years in, they practice one day a week. I've been lucky enough my whole career not to have to do that because I've been healthy for the most part.
"But it's not an option this year. I'm going to have to take reps off during practice so I can be fresh the whole season. That's where we're at right now. It's not uncommon for guys to do that around the league. Most teams do that."
While some outside Halas Hall have suggested that Urlacher skip the season opener so he can be ready to face the Packers four days later in Green Bay, he intends to play in both games.
"Every game is big in our season," Urlacher said. "I'll take time off after the Colts game. I'm sure I'll take Monday and Tuesday off, and work out on Wednesday and then play on Thursday.
"You want to be out there every game. That's all there is to it for me. I don't see there being any bigger risk. Say we have a Monday night game and play again on Sunday. It's just one more extra day compared to this one. So it's not a big deal to me. I want to be out there."