The most talked about knee in Chicago took center stage again Thursday when Brian Urlacher spoke to the media at Halas Hall in advance of Sunday's season opener against the Indianapolis Colts.
The Bears middle linebacker said that his left knee feels "good," but knows that he has some catching up to do after missing more than a month of training camp. Urlacher had arthroscopic surgery Aug. 14 and returned to practice Monday for the first time since July 31.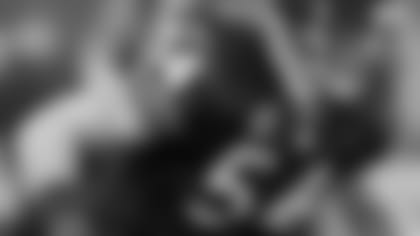 Brian Urlacher intends to play the entire game Sunday when the Bears host the Colts.

"I'm not up to speed," Urlacher said. "I know the defense well, but I've got to get my technique down and work on some things. But I'm practicing still. That's really all that matters to me.

"I'll get it down. The more I'm out there, the more reps I see, I'll get better. I'm not as out of shape as I thought I would be either, so that's good."

Urlacher was held out of practice Thursday, but is expected to work out without restrictions Friday. The Bears plan on giving him some time off every week to keep him fresh.

"I just don't think he needs any more than a couple days through the week," said coach Lovie Smith. "He's had trouble with his knee, so we're not going to push the knee through the week. We've done that in the past with a lot of guys, so this is no big issue at all."

Urlacher intends to play the entire game Sunday and isn't concerned about whether the Colts will try to test him because he's returning from an injury.

"I'm not worried about it," Urlacher said. "We'll run our cover-two if we have to and see what happens. If they want to test me then I'll have more chances to make plays."

Urlacher's teammates would like to see the Colts attempt to attack the middle linebacker.

"They can try, but they will fail," said weakside linebacker Lance Briggs.

"If anyone who's thinking that Brian is going to be a weak part of the defense, absolutely, run at him," said defensive lineman Israel Idonije. "He's a physical specimen. He's worked hard to put himself into a position so he can be on the field. He is one of those guys who is relentless. He's a tough guy. If that's something they think they can exploit, by all means they're going to try. Then at the end of the day we're going to see what happens."

Urlacher sat out the entire offseason program after injuring his knee in last year's season finale in Minnesota. He participated in the first four training camp practices before he started experiencing swelling and soreness.

"One of those first few days, I don't think I injured it, it just got aggravated," Urlacher said. "I hadn't done much in the offseason. I ran the whole month of June and July before I got to training camp, but nothing like we did in training camp. I just aggravated it a little bit and got some things loose in there, so we cleaned it out and now it's good."

Urlacher never wants to be sidelined, but told reporters that the situation has been more annoying than frustrating.

"The scope wasn't a big deal," Urlacher said. "It was a minor surgery, like we talked about. That's really all I've had to deal with for the most part.

"I knew I'd get back before this first game. It was just a matter of getting to this point, practicing this week, doing a little bit of stuff last week and then getting here this week and getting ready for the game, getting the game-plan in. It really wasn't that frustrating. It was a little annoying when it happened, but once we did the scope it was fine."