At a recent Bears training camp practice, an assistant coach is helping defensive backs locate the football during a fumble drill. As a ball is rolled behind them, the cornerbacks and safeties participating in the exercise must turn around, locate the ball and fall on it as quickly as possible. Every few rolls, a player will find the ball quickly before picking up and running with it. When that happens, observers in the crowd cheer, as if the defender had recovered a fumble and was streaking down the sideline towards the end zone for a touchdown.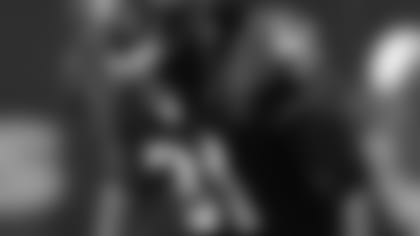 Former Bears cornerback Nathan Vasher is working for the team in camp as part of an NFL program to get former players involved.


What most of the applauding fans likely don't realize is that the coach helping organize the drill is the man responsible for the longest touchdown ever recorded at Soldier Field. Nathan Vasher played cornerback for the Bears from 2004 to 2009, recording 19 interceptions in that time; he also spent time with San Diego and Detroit before retiring in 2010. His most memorable moment came in 2005, when with time running out in the first half of a mid-November game versus San Francisco, Vasher returned a missed field goal 108 yards for a score. At the time, it was the longest play in NFL history and helped Vasher reach the Pro Bowl that season.
This summer, Vasher is back with the Bears. He is working as an interim assistant coach, utilizing a program the league created years back to help give former players a chance to get involved in coaching. Through the Bill Walsh Minority Coaching Fellowship, Vasher has the opportunity to work with head coach John Fox and the rest of the team's staff, learning the ins-and-outs of a profession the former cornerback said he wants to one day join full time.
"It's been great," Vasher said. "I think the NFL provides a great opportunity with the minority internship where you can get more guys into coaching and you can get an up close look at it; see the daily operations, see teams at an early stage as they are working towards a championship, so I'm really excited about the opportunity."
As a coach, Vasher tells Bears players to take advantage of every rep and opportunity they are given. It is a lesson he is living as well. As an intern coach, the former player is trying to grow in his role and improve every time he puts the whistle around his neck.
Vasher got the coaching itch soon after he retired from playing. When his career ended, he returned to the University of Texas to complete his degree in Applied Learning and Development. While in Austin, he helped out with the Longhorns' football team, where he began considering the coaching trek. He applied through the NFL for an internship, with the hope that one day it would lead to a full-time job.
Sam Garnes, Chicago's assistant defensive backs coach, is a graduate of the minority coaching fellowship program. So, too, is former Bears head coach Lovie Smith, who coached Vasher when he was a player. Panthers head coach Ron Rivera, who was Chicago's defensive coordinator for the start of Vasher's playing career, serves on the Bill Walsh NFL Minority Coaching Fellowship Advisory Council. Vasher said all three of those men encouraged him to take a chance on the internship.
"I think (the program) is great," Vasher said. "Chicago has done an awesome job of getting a great group of coaches from all walks of life, from different programs, putting us all in a spot where we can learn from each other, and put us in a situation where we can talk to other coaches who can tell us about their journey, how they navigated it."
Vasher stayed in Chicago after he retired and now lives in the area with his family. After following the Bears from afar in recent years, he is taking the opportunity to coach for the team he previously played for with the hope that one day it can lead to a larger coaching role.
"My playing career seems like just yesterday, but just coming to Bourbonnais, there are a lot of familiar faces," Vasher said. "The Chicago Bears have always been home for me and my family lives here year-round. So this is home for me and it's great to be here with coach Fox and the great group of coaches they have to push these guys every day to reach their potential. So I'm really lucky and fortunate to be here."