Lining up deep in the secondary near the middle of the field, Brock Vereen dashed to the sideline, arriving to greet receiver Terrence Toliver just as a pass sailed past them incomplete.
That play by the rookie free safety in Wednesday's minicamp practice was the latest proof that Vereen possesses excellent instincts, quickness and playmaking ability.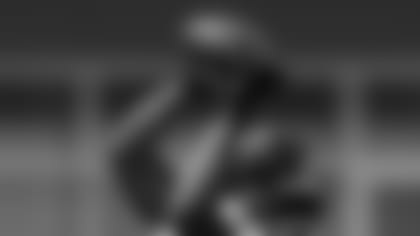 Rookie safety Brock Vereen leaps to make a catch during a recent practice.
"I'm just coming out, showing a lot of effort and really just trying to have fun," said the fourth-round draft pick from Minnesota. "I know that I'm not going to be 100 percent comfortable; it's a new system, it's a new speed. I'm just trying to go out and show a lot of effort."
That approach has impressed Bears coaches, who have been playing Vereen with the No. 1 defense in offseason workouts opposite veteran strong safety Ryan Mundy.
"Brock has done a nice job," said defensive coordinator Mel Tucker. "He has great attention to detail. He's very sound from a technique standpoint. He's smart, he plays fast. He does not make a lot of mistakes. That's good to see. So I think it's 'arrow up' with him. He's doing an outstanding job so far. We'll see how it goes. We have competition there. There's nothing set in stone. So we'll just continue to monitor him and the rest of the guys and we'll end up with a good group."
Last year's starting free safety, Chris Conte, has missed the entire offseason program following shoulder surgery, but is expected to return for training camp. Other safeties competing for roster spots include Sean Cattouse, M.D. Jennings, Danny McCray, Craig Steltz and Marcus Trice.
Bears coach Marc Trestman has also been impressed with Vereen.
"Brock has not looked out of place," Trestman said. "He's certainly got room to grow. He's got very high football intelligence. He seems to have found a way to be in the right place during the course of practice. He's verbal, which is very important on the back end. He's a good communicator.
"He's working hard. He's got guys showing him how to work. He's got the instinctive ability to know what it takes to work. His progression, we feel good about that. He's ascending and he's competing to play to start. That's where he is. He's in a competitive position to win a job.
"We're not going to anoint anybody yet, but we're excited about what we've seen of Brock."
The Bears traded up in the draft to select Vereen, who appeared in 47 games with 36 starts in four seasons at Minnesota, where he recorded 200 tackles, four interceptions and 22 pass breakups.
The Bears chose Vereen, who was named first-team all-Big Ten last season, after he impressed former safety and current assistant coach Chris Harris during a pre-draft visit.
In adjusting to the pro game, Vereen said the greatest challenge is in mastering the details.
"In college there are some complex systems, but nothing as detailed and so specific at the pro level," Vereen said. "I think that's the biggest difference."
Vereen's transition has included being integrated into a No. 1 defense that includes veteran Pro Bowlers such as defensive end Jared Allen, linebacker Lance Briggs and cornerbacks Charles Tillman and Tim Jennings.
"There are guys that as a defensive player all throughout college that you looked up to," Vereen said. "Now to share the field with them it's a humbling experience."
With the Bears' offseason program ending Thursday, Vereen plans to spend the next several weeks working out with his older brother, Shane, a running back with the New England Patriots.
Vereen figures that will prepare him for the rigors of his first NFL training camp—when the pads come on and practices no longer resemble a basketball scrimmage.
"It's a completely different game," Vereen said. "I haven't experienced it yet obviously on the NFL level, but I'm looking forward to it. I'm very excited. I can't wait for the season to get here."