Many experienced NFL players see the fourth preseason game as a final tune-up before the real action begins. With that in mind, Thursday night's 24-0 victory over the Cleveland Browns at Soldier Field was just what several of the veterans on the Bears defense needed prior to the regular season opener on Sept. 13 versus Green Bay.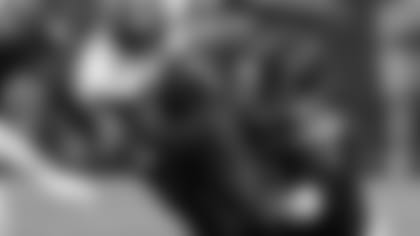 Willie Young takes down Browns QB Thaddeus Lewis.
Though most projected Week 1 starters on both sides of the ball were held out of the victory over the Browns, the Chicago coaching staff was able to see more from a few important veterans. Playing key roles in a defensive effort that held the Browns to just 2.7 yards per play, the defense recorded seven sacks and forced three turnovers. That effort pleased the experienced players in the tune-up win.
"I was out there to help the young guys and keep them motivated," said outside linebacker Willie Young, who recorded one of the sacks on Browns quarterback Thad Lewis. "It's always fun when you can go out there and take snaps. It's been a long road for me this year, but obviously back up and running now, so feels good to be out there."
Young tore his Achilles in the 2014 home finale last December, so his offseason has been different than his teammates'. While learning the new defense head coach John Fox and coordinator Vic Fangio have installed and figuring out a new position (Young played defensive end his first five professional seasons), he also has had to rehab his injury and return to football-playing shape. That put his performance on Thursday in even greater perspective.
"I went from ground zero to back up and playing again," Young said. "It's just one day at a time and I continue to progress. Not having the setbacks, that's a key."
Young wasn't the only veteran to suit up for the Bears defense versus Cleveland. Fellow linebacker Lamarr Houston saw some snaps, forcing a second-quarter fumble to go along with three tackles. The Bears scored the game's first points, a 19-yard pass from David Fales to Marc Mariani, off the Houston fumble.
Like Young, Houston also had a tough offseason of injury rehab, after he tore his right ACL on Oct. 27, 2014.
"I think it's important for guys to get ready for the regular season," Fox said when asked after the game about Young and Houston's effort against Cleveland. "They hadn't had a whole lot of playing time. Both are coming off of fairly serious injuries from a year ago. They are getting a better feel for our scheme and defense."
Inside linebacker Mason Foster and cornerback Demontre Hurst were also on the field plenty on Thursday as well. Foster, in his first year with Chicago after four with Tampa Bay, had four tackles, including a sack and two tackles for loss. Though listed as a second-stringer on the team's depth chart, the veteran 'backer made was eager to show what he could do once the game's increase in importance.
"I'm excited, because whatever I can do to help this team win, I'm (going to) do, no matter what it is," Foster said. "If that means running down on kickoffs, making tackles, making sacks, whatever I need to do. We have a great team, so I'm pretty excited about this year."
The Bears defense played well during the four preseason games, but facing Lewis is not going to be the same as facing Aaron Rodgers and the high-powered Packers a week from Sunday. For the veteran players who have been through the grind of the NFL season, the tune-up was a success. But now they are ready for the real action to begin.
"Sometimes it's not really about the opponent, it's about working on what we can control and making sure we polish up the little things in game action rather than at practice," Hurst said. "This type of game is as important for the youngsters as it is for the veterans.
"So we just want to go in with the same mentality and get us ready, keep polishing things so we can get ready for Green Bay."