Fully recovered from two serious leg injuries, receiver Victor Cruz is confident that he can revert to the form he showed during three productive seasons with the Giants from 2011-13.
"I think I'm close," Cruz said Tuesday, hours after signing a one-year contract with the Bears. "I think it's just about getting my bearings. The more I run routes, the more I build a rapport with Mike [Glennon] and get myself out there learning the plays and learning everything that needs to be learned, I think I have a potential to be that guy you saw a few years ago."
Cruz, 30, emerged as a star in his second NFL season in 2011, helping the Giants win the Super Bowl by catching 82 passes for 1,536 yards and nine touchdowns. He followed with 86 receptions for 1,092 yards and 10 TDs in 2012 and 73 catches for 998 yards and four TDs in 2013.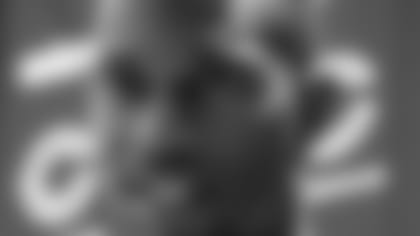 Bears wide receiver Victor Cruz spoke with the media after OTA practice on Tuesday.


But Cruz's career was derailed six games into the 2014 season when he tore the patellar tendon in his right knee against the Eagles. He seemed to be on the road to recovery nearly a year later but suffered a calf injury that sidelined him for the entire 2015 campaign.
Cruz returned last year, appearing in 15 games with 12 starts and catching 39 passes for 586 yards and one touchdown. In the opener—his first regular-season game in 700 days—he caught a 3-yard TD pass from Eli Manning that lifted the Giants to a 20-19 win over the Cowboys.
"I felt 100 percent," Cruz said. "I was out there playing. Then after that Dallas game—scoring a touchdown to basically win the game—I was on a high. You couldn't tell me anything after that one. It was a great year, it was a great moment for me just to have that opportunity to come back and play after two years of being down. Most guys don't even get that. So just to have that opportunity and relishing some of those moments that I did I think was a blessing."
With the Bears, Cruz joins a diverse receiving corps that features veteran free-agent additions Markus Wheaton and Kendall Wright as well as young holdovers Cameron Meredith, Kevin White, Josh Bellamy, Deonte Thompson and Daniel Braverman.
Asked why he chose to sign with the Bears, Cruz said: "Just the opportunity to play with guys who are competitors and great players and just willing to interject myself and teach them whatever I can, as well as compete with them at a high level."
The Bears are hoping that Cruz will help mentor his young teammates, a role he's eager to fill.
"That was part of it; I understood that coming in," Cruz said. "In the NFL, you kind of just fall into this leadership category. But I think I [fit] into that mold very well. I think it's natural for me and I'm excited to help these younger guys get better and watch them grow."
Having spent his first six years in the NFL with the Giants, Cruz is joining a new team for the first time since 2010 when he entered the league as an undrafted free agent from Massachusetts. But rejoining three former New York teammates should help the assimilation process.
"I hope it goes well," Cruz said. "It was a little different for me, I'm not going to lie. But having guys like Prince [Amukamara] and Rueben Randle and Quintin Demps, a lot of guys I'm familiar with in the locker room, definitely helped me be a little bit more comfortable coming in here.
"The receiver room already has accepted me. They're good guys and you can tell it's a good group. That just helps the transition be that much better."
The Bears took to the practice field for the fourth day of Organized Team Activities at Halas Hall on Tuesday.