Two prominent NFL draft analysts both think that the Bears may have gotten a steal in the sixth round when they selected Georgia defensive end Cornelius Washington.
During a conference call this week with the media, ESPN's Mel Kiper Jr. said that he was surprised Washington was still on the board at No. 188. Kiper thought that the 6-4, 265-pounder would be chosen in the third or fourth round and possibly as high as the second.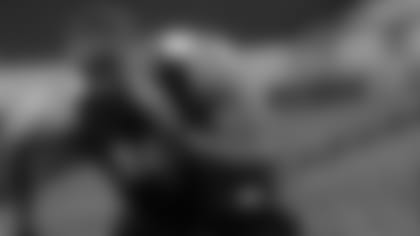 Cornelius Washington runs during a drill at the NFL Scouting Combine in February.
"Even though his sack totals were very low, his talent is enormous," Kiper said. "I thought he played better in certain games than people gave him credit for. I thought he had a nice Senior Bowl week. He's got too much talent to last to the sixth round. But when people get that underachiever label, sometimes that hurts you.

"[Former NFL executive] Bill Polian had said when [Washington] was picked, guys with that great physical ability, that great athletic prowess, they're the kind of guys you love to take in the fifth, sixth and seventh rounds. I think it made a lot of sense for the Bears."

NFL Network's Mike Mayock called Washington "one of my favorite players."

"He's a little bit one-dimensional," Mayock said during the draft. "But you put him on the edge, with his 39-inch vertical, his 4.60 40. Don't ask him to drop. Don't ask him to stop the run. Just ask him to hunt quarterbacks."

In four seasons at Georgia, Washington appeared in 51 games with 25 starts, recording 76 tackles, 17 tackles-for-loss and 10.5 sacks. Named to the Butkus Award watch list before the 2012 season, he mustered only 22 tackles and half a sack while playing in 14 games with 10 starts as a senior.

A skilled pass rusher, Washington played both outside linebacker and defensive end for the Bulldogs. The Bears feel that he possesses an explosive first step and will benefit from lining up at one position, left defensive end.

Washington's athleticism was evident at the NFL Scouting Combine, where he posted a 4.55 in the 40-yard dash, a 39-inch vertical jump and 36 reps of 225 pounds in the bench press.

Washington was surprised and disappointed about falling into the sixth round. But after being selected by the Bears last Saturday, he wasn't dwelling on it.

"I am a little bit discouraged, but the call came and that is the most important thing," Washington said at the time. "Now I am just ready to go out there and be a Chicago Bear and contribute to their team as much as I possibly can.

"I've got an opportunity and that's the most important thing. You turn something that's mildly negative into a positive and it's still a blessing. I'm blessed to be able to go to Chicago. I'm blessed to even get drafted at all. So I'm not bitter. I'm just ready to get to work."